Storm
July 27, 2017
I watch all the purplish-blue in the sky sink into the early moon, leaving behind a light gray horizon speckled with clouds. Then I watch the white fluff being sucked out from them, too, transforming into a fog that drapes over the city and turns the dry air to mist while gray seeps into the clouds. The gray things build up their rage, shake and rattle ever so slightly in the sky, but my awed eyes see it. And then the rain starts to spill down, my favorite kind of spring rain, and the earth starts to smell like wet mulch and soil and flowers and springtime and rebirth. When the thunder starts to crackle gently in booms and then echoes, and one of the gray clouds gives off a strike of lightning, and a single twinge of twilight purple splurges in a streak across the sky, I realize I am soaking. There I stand, beneath my neighbor-friend's porch floor, drenched with rainwater but mesmerized by the awe of it all.

I imagine a ship sailing my way. It's a pirate ship, and I'm on an adventure. I don't know what kind, but it doesn't matter. I'm in a wet jungle, a rainforest. I'm somewhere wild, somewhere natural. I don't know why, but it doesn't matter. I am still, in the moment, but my imagination is alive. I am standing, but also saving someone. I am watching a thunderstorm, but I am also steering a ship with pirates (good ones, of course) as we crash in violent waves. I replay mental images of Pirates of the Carribean and other action and adventure movies I have seen my dad watch but have never watched myself. My emotions feel every action in this adventure of mine - this gripping medley of everything, and yet nothing in particular.

Water trickles from my ankles into my sneakers. My socks soak. My tiny limbs get cold. But my heart is happy and my mind is alive and my soul is satisfied, and everything is amazing and utterly wonderful.

It is in the peak of this inner joy that my mother steps onto the porch and yells my name. Shaking slightly but just enough for her to notice, I make my way towards my mom. She stares at me, mouth agape, shouts forming in her throat but unprepared for release.

Dripping, I climb the stairs, step by step, silent. Finally, a voice aids her thoughts.

"Sabina!" she screams. "What are you doing?!"

An adventure, Mom, says my inner voice, but my outer voice says, "Sorry."

"Really?" she scream-asks. "Are you really sorry?" I'm not, but I nod anyway and look down.

Second-graders don't get to go on the kind of adventures movie people go on. In books, I find solace. I can go on any adventure with my emotions. But in real life, when these stories come to life before our eyes, there's a closeness and realness, though imaginary, that makes everything so much more alive.

For my mother, this is just one of many instances where one of her children did something they weren't supposed and got wet/hurt/dirty/in-trouble/etc., but for me, this is a vivid memory and an experience I connect to every time I feel those emotions when my mind meets the world in the most whimsical yet real ways possible. For me, this is a memory that has never let go.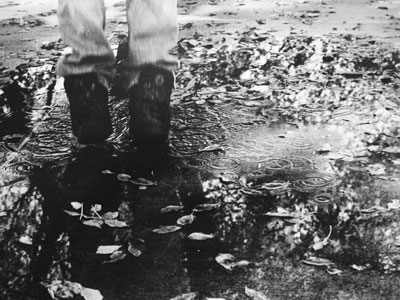 © Laura M., Eagan, MN