I Remember
June 14, 2017
A very amazing man, is sadly diagnosed with Stage 4 Lymphoma. His last eight months bring great pain to my family, and we still think about him everyday.
Chapter 1: His Journey
I remember his amazing inventions, I remember his warm hugs, and I remember his constant jokes. He was the kind of guy that you never thought would have been defeated. He was the strongest man in the world, and the world's best comedian. He treated everyone kindly, and always made everyone happy. He never was sick, and he always made sure nobody else was. He was my grandpa.
     No one ever thought he would be so sick. He always had a smile on his face, but that all changed when he was diagnosed with Stage 4 Non-Hodgkin's Lymphoma. It had taken the doctors 2 months to diagnose him. One doctor said he had a bad cat scratch, one said Lyme disease, and another said he just had a regular flu.
     After he was diagnosed, he only went downhill. Slowly his smile began to fade, but him being the amazing grandpa he was, anytime I was near him he smiled. My grandma and dad took me one day to see my grandpa. He was in the middle of chemo, and my grandma said he was a little down. When I walked in the room, his sad face went to a big shining smile. He was the healthiest looking man in the room.
     I had never truly known how sick he was. I had always thought that he was getting over his cancer. I believed the chemo had worked, but slowly he looked worse. He was fainting at home, and going in and out of the hospital. He couldn't get up from bed, and about seven months after his diagnosis, he was sent to Pilgrim's Place hospital home.
     One day after school, I had decided to visit my grandpa. I had told my mom I was going to the village where I live, but I stopped there before I did. When I got to Pilgrim's Place I had told my mom I was there, and when I found my grandpa with my grandma, he was sleeping. I decided to just sit in the room with him. When the nurses came in, my grandma and a nurse had to have him take his pills, and help him turn on his side. When they lifted him to turn him, his face went from a big smile, to the face of a person going through the worst pain. That is when, I learned how bad off he was. I stepped out the room and cried. I was on the floor crying for a very long time.
     A few weeks later, my grandpa was sent home with Hospice. I had no idea what Hospice was, until I looked it up. Plainly said, Hospice is when a very sick person is sent back home with a nurse to wait until they die. I had never thought that my grandpa could get to this point. This cancer had taken over him, and weakened him, until he was almost a person I couldn't recognize. Right before he was supposed to start Hospice, he went back to the hospital. January 21, 2015 at 5:31 p.m. my grandpa passed away after eight months of the diagnosis of Stage 4 Non-Hodgkin's Lymphoma.
     After he passed, I felt left out. My family had me go to school and my brother stayed home. It seemed that my family thought I was to young to understand that he was gone. This had not helped me in the healing process. I never was expected to cry so I only cried by myself. Two years later and I still cry. I remember my grandpa building me a surprise that was never finished. I found this half finished light strand that was supposed to be for me, but it didn't get finished, so my grandma threw it away. I am the type of person to keep any little sentimental thing. People believe I am not emotional, but after my grandpa passing away, I cry a lot now. I will find something I remember him giving me, and I cry. I remember him when I go to my grandma's house. I remember him, when I went to New York, because we went on a New York trip together. I remember my grandpa everywhere I go. He is gone, but never forgotten.
Chapter Notes:
The whole story is one chapter. Just like it is only one chapter of his life.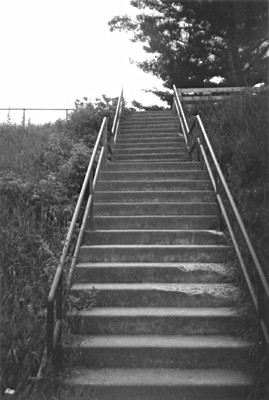 © Eva A., Eagle River, WI