My Summer Break
June 15, 2017
This is my adversity that caught me by surprise, but I dealt with it. I woke up one morning and raced to the kitchen with a burst of excitement to eat because I knew that I was going to summer camp for a whole week. After I ate, I bolted to my room to pack, then ran to the car not even thinking to shut the door. I was ready. Let's go camping.

I got to camp then it happened. I'm not going to lie it was kinda scary. But only a tear came out of my eye. Someone else, one of the counselors, thought that I was crying because someone else had a concussion. She said, "Don't cry. She will be OK." But I wasn't crying because of that. The next clue I had that something was wrong was that my wrist was black and blue all over and was swelled up like a balloon. That was the scary part. Next, I iced it, but they did not take me to a hospital. They said it was just a sprained wrist from my fun on the water slip and slide.

But even a sprain needs to be seen. So I went to my bed and sat down for a little bit. Then it was time for the next activity which was arts and crafts, so I had to write with my right hand which was hard because I'm normally left-handed and it was my left wrist that I injured.

That night we roasted marshmallows and went on a hayrack ride.The next day was cool because we got to go swimming, but the water was making my hand hurt, so I didn't get to enjoy it. Then when I got home, my dad called them and said that they were lucky he didn't sue them because I went to be seen by the doctor and got an x-ray, and sure enough, my wrist was broken in both bones. So that night I had to be in a brace and a sling, and the next day I got my cast.

I had to be in it for four weeks. The last two weeks were the first two weeks of school. It was the worst four weeks of my life. After the four weeks, I had to wait for another six weeks to play in gym. Then in another three months, I went back to the orthopedist, and he said it was good. But my wrist was so super stiff.

For an entire month after the three months, I had to wait to play in P.E. It was so boring. This adversity taught me to be patient with things and realize that bad things have an end. It may be a while before it happens, but it will end. It's also taught me that not everything can go your way. Some people think that everything can go their way all the time, but that's not true. Some things just happen.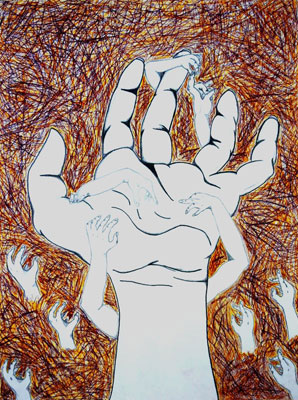 © Ariana R., New Orleans, LA