What I Knew About Grandma
June 10, 2017
Sponge cake, she rasped. I held back inappropriate laughter, tugging on the edge of my father's checkered shirt to end our visit to Grandma. I sipped Fanta out of a red cup to stifle my smile. My father whispered that we'd pick up a vanilla birthday cake instead.
The foul stench that stuck to the old yellow armchairs and off the still, mumbling bodies appeared to do away with the basic compassion I had for my withering grandmother. I say bodies because the liveliness that once brightened their souls had been ruthlessly stripped away with age. At the age of eight I bubbled with activity and the desire to explore every nook and cranny of this thing we call life. Sensitivity was not my strong suit, and obligation governed my visitations.

At my grandmother's old home I would dive into her collections of dominoes and card games and run wildly across the untrimmed grass, taking in the scent of daisies and cherry tomatoes drifting through the air. The grown-ups talked politics and finances in the kitchen and I butted in every now and then to beg for coconut cookies. That was before.

One solemn day, my father told me she had tripped on an untied shoelace and cracked her skull on the driveway. She lived, fortunately. From then on, however, she confusedly lived in the past. My father and myself were lost to her.

A fresh breath of air upon my escape from the nursing home was a sweet, short-lived feeling. I could ride my bike and play hopscotch and run through the sprinklers to my heart's content. A nasty feeling built up in my chest, however. I knew I should have visited more often. I knew I should have visited because I wanted to. I knew I should have done her better.

I found a black and white photo of Katherine—as she was known—a beautiful, sophisticated young woman in the 1930s. All I know about her comes from my father, as she kept her past to herself. Dropping out of high school during the Great Depression, Katherine worked for years in order to support her family. She decided to earn her high school degree at night while she taught swimming classes and worked as a lifeguard. Eventually she met my grandfather, an accountant who couldn't afford to go to medical school, who died before I could meet him. Her only child was my father. Living by the American tenet of hard work, she and her husband put my father through medical school. And in the future my father will do the same.

Appreciation and regret came years later.

My mother knocked on my door while I talked with a friend on the phone. I shushed her, and shooed her away. She insisted, and I opened the door. Grandma died. I hung up the phone, weeping.

Loss is difficult to fathom without first experiencing loss. Loss of a tough and loving soul, loss of memories we would have had, loss of family. Pain about her loss often encompasses the memories, conversations, life lessons, hugs and kisses, and times we never had. I was ten when she passed. Now I am seventeen, and entering a new chapter of my life. What I wouldn't give to have simply a moment with my grandmother right now.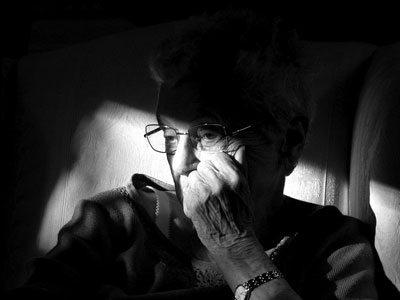 © Kate S., Hopkinton, MA