My Life in a Short Story
May 24, 2017
My Dad wasn't there a lot when I was a kid. Not because he was a dick that left his kids when they were young. He was just working a lot and never really had time to do anything else. It took me a few years to realize he wasn't ignoring me. He was just trying to help the family and get food on the table. And I wanted him there I think that if he was there i would've come out a better man
I hated my youngest brother cause he always had time to hang out with my dad. He always had the chance with dad. I posed him as the favorite for years. Now I know he had time cause he was making more and working less. But i've always been mad cause he coached his football team and not mine. He was always helping him and i was always messing up and getting in trouble.

I just felt like my dad didn't like me for a little bit. But i later realized that he loved me more then anything. For years i was to stubborn to notice it. I always told myself that i couldn't do anything right and now i know i can do anything if i put my mind to it i can be like my dad which is the only thing i've wanted to do my whole life. I want to be him some day not in the spot he is is but with the way he is. He has a family of his own that loves him. And he is just he has a great personality that everyone can get along with if you stay on his good side. That is why i wanna be like him and if he knew that he would stop telling me not to be like him.

There was another problem with my childhood i was diagnosed with ADHD when i was a kid and we figured out the hard way i'm not allowed to have red die my dad would have to pin me down cause i would get so crazy and out of hand i was a crazy kid till i hit 5th grade i got more mature and easier to handle

I wasn't on meds at first it wasn't until i hit kindergarten and started disrupting class that i started the meds the constant changing of medications and types of meds i went from vitamins to hardcore ADHD focusing meds we finally found something that works and it's lasted about a year and it's good so far but my ADHD still gets in the way of a lot of things and puts me out of the picture in other people's lives

I have moved a lot my hole life. We lived in 8 different houses. It all started initially in a small town in nevada called sun valley we lived there for the first 5 to 6 years of my life and then we moved to washoe valley about 25 miles south after we lived there for a few years i was about 9 and we moved to a smaller town called fernley that's where my life got well let's just say interesting.

By the 6th house i realized that a house is a house but it only becomes a home when the whole family is together. Home means more than house and it takes a lot to have that. I realized i was screwing that up after i got in a bunch more trouble.

I was going good through second grade and third grade my grades slipped a little bit and then once i hit fourth grade it got worse i got in more trouble i started to get in fights and get bullied and people started to notice me i didn't like the attention so i tried to hide every day at lunch and recess i would hid in the back and keep to myself they just made fun of me even more i eventually started fighting back and they just kept going and going they just kept pushing nobody knew how crazy i was until i actually got fed up and started freaking out.
I got in my first fight when i was in 5th grade and it was two of my best freinds at least i thought they were my friends they jumped me i didn't know what was happening they came up to me one tapped on my shoulder and i turned then BAM right in the nose and i couldn't see then right in the side of the head i was on the ground and i was getting kicked around and then the principal broke it up but what i still don't understand is why i got in trouble for getting beat up for no reason,
I went on with life and then i hit 6th grade and we moved states and went to live with my grandmother probably one of the nicest person i know and we lived with her and her 8 dogs for a year hen moved back to nevada and i started middle school back in fernley i got in a group of friends that i knew before i moved to cali and we rejoined i eventually got in tons of trouble i wasn't coming home from school and i was going places i wasn't supposed to i was going to friend's houses and not asking i would just leave and not tell anyone. Then my dad found out and my life turned around real fast i was sent to california and i had a good life there my grandmother was up my butt every where i went i was always on track i had a really good girlfriend and then i had to move across country to minnesota i lost everything good in my life i had nobody i knew in this god dam state my parents saw it as a fresh start i see it as the end of me being a good kid and having life set up for me so i just pushed through the first few months and then i got into football and it all just got weird i started freshman year and got a new girlfriend a few weeks later then we lasted about a month and then she left.
This all brings me to my life as a freshman i went through alot this year and i will never forget it i bounced around a lot i found a new girl and we lasted about 2 weeks then she cheated on me then another one asked me out a week later and that lasted a few days for unspoken reasons then i found the one and we were together for five months and it was great i had everything going for me again in thought i could keep it and then it all ended and it was my fault it's been three months since it all happened and i still can't get over her sadly enough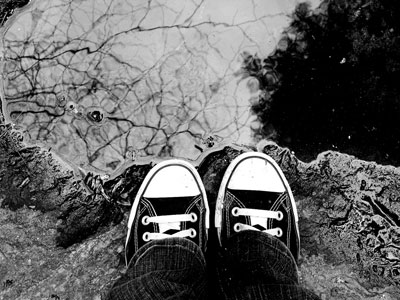 © Michelle B., Blairsville, GA