Body Image Rant
May 19, 2017
Ever since I was a kid, I've always had this image of myself that has been ingrained in my brain for as long as I can remember. People tell me otherwise but I will never get over the fact that I will always look like this no matter how hard I try. This has been an issue of mine every since boys were pointing and laughing at me when I wore a bikini for the first time. My stomach hasn´t seen the light of day since then. I miss being able to wear a two piece swimsuit and feeling confident in what I´m wearing in general.
Many women have the same issue as I do and I want there to be a change. There has been way too many cases where girls have stopped eating to fit the satisfactory level of society, including me. I wasn't eating as much as I needed to especially when I was dancing for the musical. This caused me to have some health issues. One day I almost passed out because my body couldn't take what I was doing to it. This was my body's way of telling me that I needed to eat.
I took rehearsals for the musical as an excuse to not eat so I could lose weight quicker. This was not the case for me. I don't know if I lost or gained any but I did notice a difference with my mental health. I wanted so badly to meet the standards and the expectations of society but I'm just not built that way and it does make me sad, because women with that body type are usually the ones who are chosen to be models or wear a certain style of clothes and they are the more attractive ones. To this day, I still don't understand why it is such a big deal to be a size 2, but I cannot live up to that standard. So I have to be like everybody else unless there's something about me that really stands out.
A friend sent me a video telling the story of a plus size woman who did not eat and lost a lot of weight for a photoshoot, which she ended up being turned away from. They said that she was "much too big"....at a size 2!! I can't stand the fact that the fashion industry is pressuring women to be a size 0 and have them pretty much starve themselves to make them look better when they just use photoshop anyways!! This makes me so angry and I do not want it to exist anymore. There is much more women can do rather than to sit still and look pretty.
I've spent years asking my close friends what the hell is wrong with me because people didn't want to be around me, this was because I thought the reason behind it was that I wasn't pretty or that I was too fat and they didn't like kids who were fat. But then years later I found out that wasn't the case--but let's not get into that. But still, I will always have this image ingrained in my head that won't escape my mind. But now I need to start accepting my body for what it is, along with every woman in the world and the industry.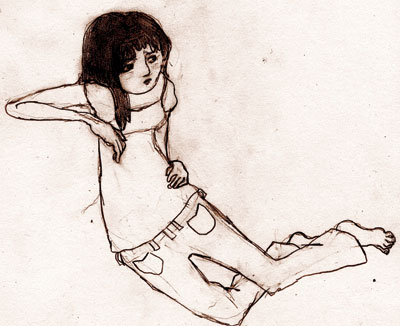 © Samantha W., Albany, NY