The Gift of Silence in a Loud World
MAG
May 16, 2017
"Who'd you put a plane on? Not the exper test? Most of my time is devoted to donut two and you blung grayed it! I have a total -- shush -- of 1500 hours of sleep."

This sounds like a horrible (and entertaining) subtitle service. But as a student with hearing aids, this is a part of my life.

Now, don't get me wrong. This inconvenience can be hilarious. I usually play it off with a laugh and a joke, and the conversation carries on. Sometimes, I even repeat the misheard statement back on purpose, because humor is preferable to awkwardly asking, "What?"

Humor, however, lasts only a short while.

I have bilateral hearing loss, which means that I have hearing loss in both ears. I wear a hearing aid in my right ear, and my left ear's pretty much hopeless. I've adjusted -- when I'm with people, I tend to stay on their left side.

I know that having hearing loss doesn't seem like a situation someone would want to be in.

Hearing is tiring. It's not just physical. It's also mental.

I miss a lot of what's going on around me -- the jokes in class, the YouTube videos that don't have subtitles, the conversations between my friends, and anything involving the use of voice. Sometimes I can't even hear someone talking right next to me.

And because I can't hear it, I don't know what I'm missing. I just know that I'm missing out. And to avoid missing even more, I have to put in extra work and devote all my attention to what someone's saying.
Having a disability -- I have yet to come to terms with that word -- means that I often fall into a hole of resentment.

Sometimes I wonder, why me? What happened to that five-year-old kid that everyone loved because she was so outgoing? Even the big fifth-graders would hold her hand and laugh with her. Other kids didn't really care that much about hearing loss, as long as you were fun, nice and good at running.

What happened to that kid before insecurities took ahold of her?

I could go on laying out my grievances. I could let out that pent-up anger and resentment.

But what I've learned is that when I fall through that hole of resentment for the umpteenth time, I'm not getting better.

Every moment, I'm learning how to deal with my hearing loss not by crying, but by speaking. By listening. By acting. If I want people to look past my disability, then I need to look past it first. I need to be that cheesy voice in my head and say, "Be positive!"

There are so many benefits that come with the detriments -- incredibly fast reading skills, lip reading abilities that allow for some entertainment and eavesdropping, friends who stay by me, the ability to empathize, and not taking communication for granted.

In addition, I've had so much help in my education system. My speech therapists helped me hear and say my s's and f's right, my audiologists fitted my hearing aids and offered counsel, the school administration met with me, and all my incredible teachers were there, day in and day out.

Last year, there was the National Spanish Exam with an audio portion -- the bane of my existence. You know, the type with headphones and multiple-choice answers.

Then my Spanish teacher swooped in. She was the one who contacted the organization and set me up with a Special Ed teacher. A classmate of mine and her mother went beyond the call of duty and transcribed two entire exam sets of audio so that I could practice. That was amazing, and it proved that there's always a way to deal with everything. It just takes effort.

So I work with my hearing aids and I enjoy the adjustments that I've been able to make over these 15 years. Hearing is exhausting, but it's so worth it. It's taught me how valuable communication is and has forced me beyond my comfort zone. I found out that I like to be uncomfortable, and having hearing aids gives me more ways to be in that state.

To know that I'm not alone and that there's a support system is incredibly uplifting. My family and friends remain supportive. My sister's a Speech and Hearing Sciences major in college. I don't know if that was partially because of me, but that surprised me. She told me that she was able to get an inside perspective and a head start on her major with me as her sister.

And having hearing aids?

It's a privilege that I'm extremely lucky to have. Having hearing aids, which may seem like an obstacle, offers entirely new perspectives. And only I have that experience -- something that's wholly mine -- including an appreciation for silence.

Yes, I have sound. But silence? It's beautiful. It's its own kind of experience. You don't need to hear anything to understand silence. That's how I sleep -- in silence. It would be bad news if a burglar broke in, but my dog will take care of that.

The best part is that my hearing loss gives me the ability to help others.

I'm planning to contact movie theaters and petition that they improve the subtitle services that they offer. That goes for airlines with in-flight entertainment too.

There is no one else who cares more about hearing loss than I do, and that's because I know what it feels like. There are so many out there who are in need of hearing aids and don't have them. Providing hearing aids for all is a lofty goal, but goals are there to be met.

I'm also on a personal mission. I haven't met another high school student like me, but I will in the future. I'm going to find others in the community. There are people out there who have it harder than I do. I will learn sign language beyond the alphabet and communicate with the community that I have largely been absent from.
Needless to say, I wouldn't give up my disability for anything. It's a gift. It pushes me to be more active and has exposed me to numerous worlds. It's helped shape me into the person I am today.

So I'm not going to lament my hearing loss, whatever caused it, or all the grievances that it gave me.
Instead, I will say thank you, hearing loss, for giving me so much.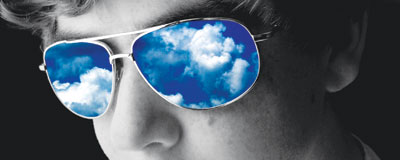 © Joseph B., Mesquite, TX