Music Found Me
May 11, 2017
After taking years of guitar lessons, spending thousands of dollars, and dealing with the callouses on my fingers, I decided I needed something new. My mother and I talked multiple times about this, she would say, "When are you going to join a club or something at school."

I would reply with, "There's nothing for me to do, all I do is play guitar."

"You could join the school's jazz band, I heard they need guitar players and you need something to put on college applications." She would reply. According to her, you had to do extracurricular activities to get into college, but she never expected that I would be applying to colleges relying only on that activity.

At lunch the following day I mentioned to one of my new friends that I was interested in joining the jazz band. I never saw him as someone that was in band because he was always wearing basketball shirts and athletic shorts, but he was ecstatic. He sprang from his seat and yelled, "Come with me!" He brought me to this hallway I had never been to before The hallway was secluded from the rest of the school I was terrified. Questions began racing through my head. Where was he taking me? What was I doing here? And then he yelled to a teacher, "Hey, Mr. S, my friend Danny wants to join the jazz band!"

The teacher responded in a bombardment of questions, "What does you play? Do you read music? How long have you been playing and what kind of music do you normally play?" It seemed as if the questions would never end, and that I was never going to make it to my next class. After what seemed like a million questions, he said, "Come to our rehearsal after school." Although I had never played jazz, I thought it may challenge my playing abilities and went to my first ever jazz rehearsal.
My new music friends and I would practice before jazz in one of the school's practice rooms. This was the first time that I had been completely surrounded by music and I loved it. One day, a senior came in, I had seen him once or twice before, but he rushed in, full of energy, saw me with a guitar and asked if I was interested in playing with the school's show choir band. I would never turn down an opportunity to play, so I of course said yes and went to their rehearsal that night. The senior that came into our practice room that day quickly became my best friend and gave me more musical opportunities such as the school's talent show and playing bass guitar for Shrek the Musical.

The show choir band brought me into contact with the school's choir director Mr. Tieri, or "T," as everyone called him. He not only taught me an immense amount about music and performing in different areas, he also showed me who I wanted to be when I was older. Many band students are scared of him because to band kids it seems as if he only yells at them for doing something wrong. I quickly realized that everything he did and said had a purpose and was done in order to make everyone a better person and performer. He shaped who I am, not only as a musician, but as a person. By meeting Mr. Tieri, I ended up in AP Music Theory my sophomore year of high school. This class and the people in it taught me more about music than I even knew existed.

After playing in the show choir band for three years, the choir director told me that I should audition for the school's choir. I never saw myself as a singer, I was a guitar player, but auditioned anyways, assuming it would help my musicality. I practiced every moment I could for two weeks before the audition and was the very last audition of the day. I unexpectedly ended up in the school's top choir. The choir not only helped me musically, but also gave me the chance to meet excellent people and shed light onto how musical parts worked together in a song. These skills gave me vast opportunities and my name found the ear of a few musicians in the community.

John Apple, a fine arts pastor, first contacted me late in my sophomore year to play at Springbrook Community Church. He had heard me at one of the high school band concerts. Again, I never turn down an opportunity to play, so I went to play at the church, even though I had only been to church twice in my life. I began at Springbrook playing guitar whenever they needed me, but I soon found myself playing at this wonderful church almost every week. When I finally had a week off, I felt slightly lost and decided to show up to church even when I did not have to play guitar. My parents had just separated and I found a new family at my church. About a year after this, I became a member and started attending weekly.

I entered senior year as a seventeen year old musician who could play guitar, bass, and sing. I had to decide where to go from there because high school was coming to an end. I talked to multiple professional musicians about what they did, where they went and I began applying to fine arts colleges in which I could major in guitar performance.

These experiences explain how I became who I am, as a musician and a person. My experience has earned me countless awards and honors for being an excellent guitar player and person. Without that first kick into jazz band from my friend, I am not sure what I would be doing or who I would be. Music shaped who I am and it found me at all the right times. In the words of one of my favorite musicians, Nico Segal, "I once was lost / But now, I'm found / Was blind / But now, I see / Music found me."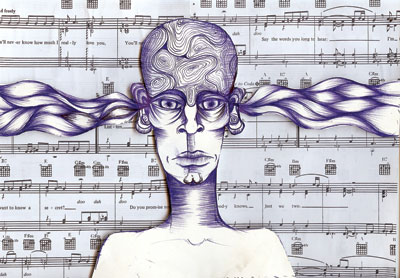 © Ani S., Petaluma, CA