"It will be fun," They Said
May 10, 2017
"It will be fun" they said

It's was a beautiful, sunny morning , like everyday , before class started everybody were playing tag, soccer, el mundo and monkey bars at school, except me, I was the only one who stayed at her desk until school started. I was the "Nina distinguida" of my class so I was always on a good behavior, good grades and showing good moderation. It's not like I wouldn't go out to play But I thought it was a waste of energy, I did got bored over the time, is not a lot of fun to draw by yourself. Some of my friends always told me "come play with us, it will be fun" they said , so I went out to play with my friends. My friends were playing monkey bars, to be honest that was the first time I done monkey bars. I was waiting in line with my friends. When it was finally my turn I was so scared of height that I couldn't even move but when I was finally going to jump one of my friends pushed me. I could barely even hang, my hands were sweating and I ended up falling, my arm was under my body, all of the other kids were looking at me as if somebody had just died in front of them. I stand up and stared at my arm, I couldn't believe it , that was my arm?, I mean, I don't know about anatomy but that's not how an arm should look like. I went to the back of the class, I was trying to hide my arm. How would I the Nina distinguida of the class be in those conditions. Some of the annoying kids of the class told the teacher about what happen, she came in.

" what happened to you?" she ask

"Mmmm….. Well…"

I wouldn't just tell her that my friend pushed me.

"Class is over, go back home" she said to the class while walking me out of school.

I got into my dad's car, my teacher was accompanying me. When I was finally at the hospital the doctor said that my wrist was broken and that I'll be using a cast for 2-3 month. They injected me (it supposedly should have make me fall asleep but I didn't, so they did it twice.) They took me into a room. when I woke up I already had the cast on. Over the time I learn how to do everything with only a left hand, even to write. The time past on and when they finally took the cast off, "woww..!!" my arm looked like an alien's hand-without color, so skinny, and weak, but , it was ok, as long as I would used it again. I started to be afraid of monkey bars and the school threw the monkey bars away. Since that day I started to play outside.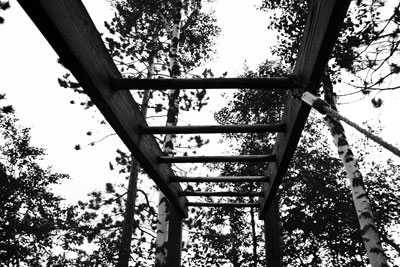 © Sara F., Cannon Falls, MN