A Week of Memories
May 9, 2017
It's June. The trailer is sitting outside of the barn, doors open, waiting. People rushing around inside of the barn trying to get last minute things together. Animals pacing back and forth due to the craziness that's around them. We have until midnight to get everything moved in.
It's the day before the start of the best week of the year. We've all been waiting for this since last year's fair ended. Months on top of months of planning and working to get everything just right. Hours of working animals to make sure they stand right and look perfect. All the stress has led to this point and I must say that it's more than worth it. Soon, the animals will be loaded onto the trailer and we will be on our way to the fairgrounds.
One last check before we leave. We'll be at the fair for the next week and make few trips back home. The next week is dedicated to the animals we've worked so hard to prepare. In a few days, I'll be back in the show ring competing against people who have worked just as hard as I have. We all hope we can be number one in the end.
By the time show day comes around, everyone is rushing around trying to get everything ready. All the wash racks are occupied by the people washing their animals at the last minute. You can hear the buzz of blowers in the background getting fur to stand up as much as it can. The smell of hairspray is in the air. The girls are running around tucking their shirts in and hair spraying their hair so it has no chance of falling out when in the show ring. The show parents are holding the animals while their kids are getting ready and they knew that this is what they would be here for on this day.
It's time to go into the ring; they called my class. I've been preparing for this for months on end. I take a deep breath and walk into the ring. The judge's eyes are on me as I walk through the gate and soon they're onto the person behind me. He tells us to line up and I set up my steer the way I have a hundred times before. I watch the judge. He tells us to walk around and stand in line again. We're all anxious. None of us know how long it'll take him to choose his number one pick. We continue to walk around and line up multiple times. The judge makes his rounds looking at different aspects of each steer. Finally, he makes up his mind. He points at me and tells me to go around and line up facing the crowd. I've gotten first place.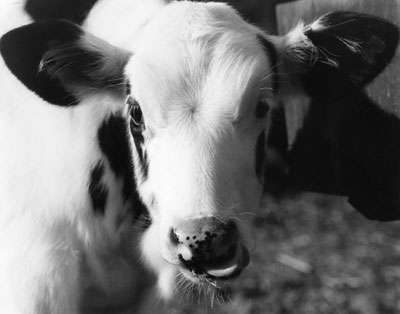 © Chelsea B., Troy, MI