Shoes
April 18, 2017
Everyone in my family has different shoes. The quality, the style, the color. My brother's shoes are worn out, covered in mud, and stinky like the smell of the air when the spring wind carries a drift over from the farm. Like he was chased through the forest after a downpour. Like he went on an adventure up the mountains to find very important treasure. It is easy to tell he is flat footed, because there is no longer a grippy design on the sole.
My sister, has a different pair of shoes for every occasion. Her stilettos are confident and sassy, for the late nights spent with her friends. Her Nikes are clean and cute, that she wears to cleverly hide the unathletic side of her.

My dad's shoes are classy and clean, for his everyday trips to work. The sun reflects off the tip of the shoe enough to see the light bounce off. The shine is like the look of a car after having the supreme wash at Jilly's.
My mom's shoes are the bargain deal you find at DSW shoes, comfortable yet stylish. With the smooth brown color and the chunky heel on the back, her boots are perfect for her. The sound of her walking is rhythmic, but loud. Rhythmic, but loud. I always hear her walking around the house.

My shoes. My shoes are the same almost every day. The classic, comfy, converse that I have loved since I got them. They scream out personality, while also keeping quiet when they need to.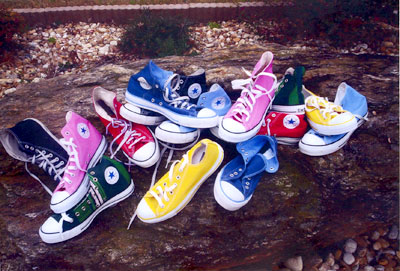 © Leandra L., Stockbridge, GA