2016: The Year of Struggle
April 13, 2017
What's the scariest word you can think of? One word that when you hear it, you know you might lose someone. A word that means the journey ahead will be the most difficult one yet. A word that means you get that feeling of a thousand rocks drop into your stomach and you can already feel yourself sinking deeper and deeper as soon as you hear it. I can think of a word that fits into all of that: cancer.

Sadly, I have had a journey with this word. I have seen its twists and turns, and all of its sudden drops. In January of 2016, my mom was diagnosed with breast cancer. We knew that the next year would be the hardest one yet, and probably ever. It was so scary to know that my mom would have to endure months of chemotherapy and radiation, and many surgeries. It would be both emotionally and physically taxing on our whole family. My mom would lose her hair and would be limited to resting all the time for a while. Thankfully, everyone was so supportive. We had dinner that people made for us three nights of the week, and that was amazing. It really made the whole thing seem a little less stressful. Throughout the whole process, there were a few major moments that really stood out to me.

The journey began when my mom had a lumpectomy to remove the cancerous tumor. She was in pain for a while, but it was successful. It was hard because I had to watch her as she slept all the time and constantly needed painkillers.

Another major moment was when she started chemo. The effects differed with each treatment, and every day was a surprise. She began to lose her hair and needed to wear a wig. I remember one day when we were walking into meijer on one of the days near the end of her treatment, and these teenagers yelled at her, "It that a wig?" as we walked into the store. She never heard, or at least she never showed she did. I ignored it, but I couldn't stop thinking about how horrible those kids are. I was never embarrassed by my mom's lack of hair, but it still bothered me that they would be rude enough to point it out.

There were other moments that were hard too, but there were also the good ones. Her last day of chemo was a great day of celebration, and so was her last day of radiation. She started to get her energy back, and her hair began to grow. Then, we got some more bad news. She had stones in her gall bladder, so she had to get it removed. She went through surgery again, and this time was way worse. She even said there were moments that it was harder and more painful than the chemo was.

Today, I am happy to say that my mom is cancer-free and she has recovered from the gall bladder surgery. I thank God every day that I get to have my mom here with me and for giving her the strength to get through this. I am very thankful for everything and I know that I will never again go a day taking her for granted. 2016 was a really hard year for us, but it made me stronger and it helped shape who I am today.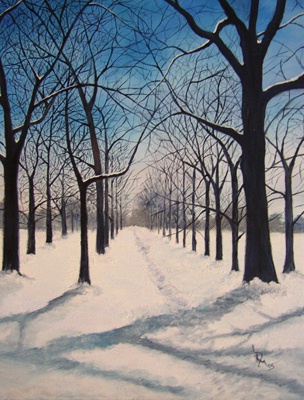 © Lauren M., Scotch Plains, NJ