Banana
April 9, 2017
My Nana was a strong willed woman who everyone loved, especially me. She was the best grandmother anyone could asked for. Being around her made me happy and her smile was contagious.

She lived with me and my family for 4 years while she got cancer for the second time. She loved living with us because we made her feel at home. She brought her dog Molly along with her who looked like a black puffball. She loved card games and crossword puzzles like her inner kid came out around me. Crossword puzzles were her getaway from life, they relaxed her. I saw how much she loved them, so I wanted to try something new and I was pretty good. We would sit in my sitting area and it would be so silent that you could hear a pin drop because we were so focused. After, she always ate devil dogs, chocolate truffles and cream puffs but could never get it all in her mouth. She loved junk food, but she loved my mother's home cooked meals because she was too lazy to do her own cooking. She had as many clothes as Kim Kardashian, but only wore certain ones. The only type of shoes she would wear were Sketchers. She looked so cute with her clothes and little old sketchers, I wanted to look that cute when I get to be her age. She had a car that she loved, it was a blue Toyota Camry that my mom had totaled in an accident. She loved taking car rides up to Athol to get out the house and see the beauty of nature. She loved us most of all.

While being with us, she had Stomach Cancer. She had it before too. She is a very strong person and a fighter. We believed that when she was living with us, she got better. The doctors had told her that she didn't think she was going to live for this long. But Nana said that it was us and how we loved her so much. When she was in remission she moved to a townhouse in Athol right around the corner from my uncle. My Nana had been through hell with the 2 cancers before, but it only got worse when she found out a couple's year later, she had breast cancer. That was the turning point in everyone's life. We visited as frequent as possible not knowing when the day would come, hoping it wouldn't anytime soon.

The day of her death was September 4, 2013 and it was hard for everyone. My friend Lauren and I were hanging out and my mom pulled me into the other room and told me. She said that they found her lying down in her bed, dead, but I was proud of her that she felt that she could finally go. I was sad, but she didn't want to suffer anymore. It was the worst news I have ever received in my life. At first I was as shocked that I cried a little but it was like rain sprinkling until I realized and it was a downpour. I was so sad because she was like the sibling I never had, we could have fun together. I was very vulnerable that day like broken glass. She was and still is one of my role models in life because she lived life to the fullest even though it was taken fast. Everyone was grieving during this time. I feel an emptiness in my heart ever since, but I'm slowly recovering. Cancer took my Nanas life.

When the day came to bury her, everyone, friends and family from my mom's side, were there to support us. It was hard to contain the emotions balling up inside me so I had to let them flow out of me like a river. That day, was the first time I had ever seen my father cry like a baby and I had to comfort him like his
mother would have. He was hit hard, right in the hart like an arrow hitting the target, he was devastated.

Since she has passed on, she has been looking out for me to keep me safe. She is my guardian angel from up above. I will never forget her and what she did to make me a better person. I love you!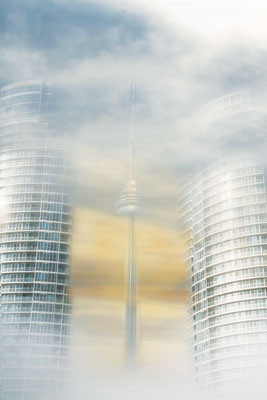 © Micha C., Toronto, ON, Canada