Not Enough Time
March 23, 2017
It's probably the hardest task I've ever been given, trying to piece together memories from when I was just five years old. I try so hard to remember all that I can, but sometimes I'm not sure if I'm beginning to make things up in my head out of desperation. Its weird, the way your mind forgets some memories so easily but holds on to others so vividly. Every day I see us doing cartwheels in the kitchen, then gearing up to continue our fun in the newly fallen snow. That's my last distinct memory with you. It was March 16th, 2007, the same night that you left us. Out of the five years I got to be held in your arms, my brain knew to clench onto that specific memory, though any normal five year old would forget. I guess I knew I had to hold onto what I had of you.
I get scared a lot. I fear that I will somehow forget your voice, or the way your eyes lit up when you saw mom, or the tight hugs you gave me when you got home from work every day. Home videos are a life-saver, letting me here your voice and see your face whenever I please. A video isn't what I want to remember you by though. I want so badly to remember the feeling of your skin against while you carried me to bed and the tone of your voice while you were telling a joke. Your contagious smile that lit up the room, that's one I don't think can be forgotten, but it scares me to think that it's possible.
Its not fair that I have to stress so much to remember a man who every child usually knows like the back of their hand. Its not fair that my wake up call that Saturday morning was my uncle informing me that you were gone, you were dead. Its not fair that I had to sit in a funeral home for hours refusing to go see you because I was scared of your dead body. Its not fair that I had to kiss your cold cheek and watch you be put into the cold ground. Its not fair that I had to grow up without you. I didn't always have someone there to tie my shoes. I didn't have someone to say I was too good for any boy. I didn't have someone to scare away the boys for being near me. You wont be able to walk me down the isle on the day I give my heart to man that is supposed to have to gain your approval. That was supposed to be your job, but God called you home before you were able to finish.
The night time is the worst when my thoughts take over my entire brain. I hope that you cant see my morbid thoughts on those really bad days. I hope I am not stupid for seeing a cardinal bird and thinking its you checking up on me. I hope you aren't disappointed in all the mistakes I've made. I question whether you can really see me and if you've been guiding me down the right paths. I wonder if Heaven is all its worked up to be and if you are happy. I wonder how different my life would be with you here. To not know anything drives me insane. I fall asleep with all this on my mind but never any answers.
Its been almost 10 whole years without you, but nothing has changed. I forever will crave more than what I got with you.
I want to do cartwheels with you in the snow, Dad.
I miss you.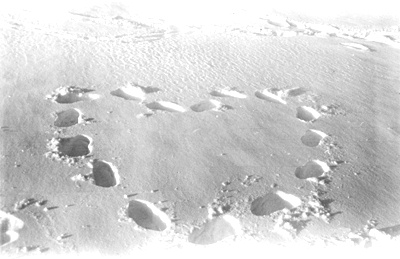 © Kim B., Marblehead, MA