Love Broken
March 22, 2017
I been lied to, hurt, crushed, and even my feelings has been ripped out of my body. But yet I am still able to love other people like I never been hurt before. I was feeling like this way for a very long time, ever since my boyfriend dumped me. It was a very casual everyday routine. I woke up and text my boyfriend like;
Good Morning babe.
Good Morning.
What you doing.
We need to talk.
OK, What's up.

At this moment my heart and mind was worried of what this conversation was going to take turn, a breakup or a checkup about a situation that happened earlier. And so the conversation proceeds;

Well, I don't know how to put this. But this relationship is over.

I heard a cracking sound in my chest as a tear fell down my cheek leaving a depressed stain marked my shirt. Raindrops. The sky became dark and lightning struck down, heavy clear liquid fell from the sky while every word was pressed from my finger tips;

But why....... did I do something wrong or not been the girlfriend you wanted so dearly or haven't i show the world I love you enough with Facebook posts, and Instagram.

I'm clueless and unable to eat breakfast. I lock myself in my room and pass everything and everyone at this point. I don't want to talk my sister and tell what happened as she looked at me worried of why my eyes are watery and red. Until a beeping sound, vibrations and flashing lights came from under my pillow as i lifted the pillow. Tear. Fell down on phone as the phone shine the notification then gradually went blank. I clicked the home button and read the message with tissue paper patted my eyes.

It's not you, it's me. I lost my feelings for you.

Then became texting him;
Please don't do this to me.

Then the conversation proceeds;
I'm sorry. But you got to move on. I already did. Bye.
Recording myself saying "I love you", "I need you", "Please don't go". Repeatedly texting him; "Please talk to me, Maybe we can fix this", "Please", "Talk to me".
Until he finally text me back;
This relationship will never be recover. Bye. Delete my Facebook, my Instagram, everything. I'm done with you. ITS OVER.
"Nooooo please" in tears, running out of tissue, too sick to my stomach
Then a message pop up on my screen, thinking it's message from him but only it was Facebook alerting me that he disable his account. Ever since I first woke up I thought my day was going to be perfect but in reality it took a very horrible turn into deep depression.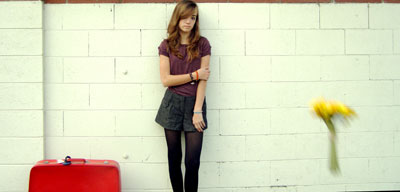 © Austin K., Studio City, CA