The Importance of Failure
March 13, 2017
"Failure is not an option," a phrase I once heard a classmate of mine utter when the teacher asked us to describe our hopes and dreams for high school. I remember how the words resonated with me, and I stared admirably at the student whose back seemed to stand tall above the rest.
Freshman year for me was all about testing my limits. How far could I go? How much could I study? How much could I push myself to the absolute limit? This was a pattern that couldn't be sustained.
You'll find that "failure," has a different meaning to many. To some, it's spending full weekends indoors while the weather smiles pleasantly outside. To others, it's the crushing disappointment of their parent's clinical stares.
To me "failure" translated to "A-."
Not as extravagant and heart-wrenching as ones that others might bear but nonetheless, a failure to me.
It was the death of all dreams and any that were to come. A void that threatened to swallow me whole whenever my eyes frantically checked my grades online.

Back then, it was my golden ticket to the Emerald City, and any lapse in judgment was never allowed.
"Failure is not an option," a phrase I strongly disagree with. We experience failure everyday, at every step in our journey. It's what shapes us to become who we are as well as what we're made of. If there's one definitive attribute I value the most in my life, it is our ability to fail.
Whether or not that student has experienced such a thing is unknown to me. Maybe they have made peace with themselves. Maybe they are still fighting the good fight. However, one thing I know is certain.
My back still stands tall.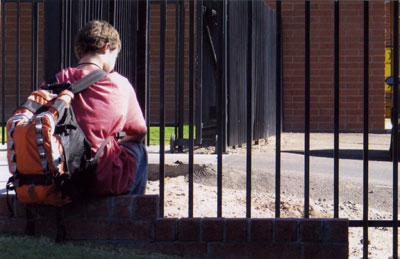 © Molly L., Phoenix, AZ