New Year's Eve
March 11, 2017
A few years ago, New Year's Eve, my friend came over for dinner and to watch the Ball drop. While waiting for the food to be ready, we'd run around and hung upside down from the swing that hung from the sweeping oak in our yard. As soon as one of us did something "amazing" on the swing, we'd change places and the other would try the "amazing" thing. We traded stories of the crazy things kids did back when we went to school. It didn't matter that it was the tenth time we'd shared the tale.

When dinner was ready, we'd go inside with my mom, my dad, my brother, and my friend's grandmother. Our conversations drifted and converged as we shifted topics. Sometimes it would overlap, half the table discussing one thing, the other half discussing another.

After the meal was finished, everybody strayed into the living room. Except for my mom, who stayed in the kitchen to clean up and make food for our cats.

In the family room, my dad turned on the TV to the channel featuring the Ball drop. It was still well before midnight, so the final countdown hadn't actually started yet. Besides a good amount of cheesy commercials, the channel aired Miley Cyrus, Taylor Swift, Usher, Lady Gaga, and a bunch of other pop-artists' New Years live performance.

In the last couple seconds before midnight we chanted "Ten! Nine! Eight!...." all the way down to the final "One!" Then my friend, my brother, and I got out the pots and pans and went outside to shout "Happy New Year!" to all or neighbors. We'd run around again this time with streamers, which we blew, and then eventually come to lay in the grass. The stars were free of clouds that night. When my friend finally went home, it was late, far past midnight. There was some sadness, but mostly we were tired and ready for bed.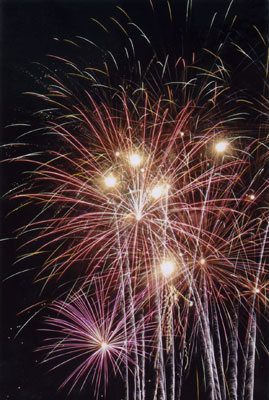 © Michael D., Hawthorne, NY