When I Think of You
February 8, 2017
I met my girlfriend in November of 2015. A friend had set us up based solely on the fact that we were single lesbians. It's funny how those things work. After a year and three months we are still together: and I hope it stays that way for a long time.
When we first met, I was an absolute train wreck. Correction I was a collision between two eighteen wheelers and several cars on a four-lane highway. My brain was full of what I call fog. A sort of disassociation from reality where your will to get up in the morning vanishes faster than the speed of light. I will go through times like this. That early November was one of those times. I didn't know what to expect I was just excited to meet her. After school, we met up one day. I had followed her on social media or at least what I thought was her. Somehow, I managed to type in her name wrong. So, when I was looking for this girl who I had never met to meet me at school, I expected a gorgeous blonde girl. But instead I got an even more gorgeous brunette.
My Gabby has light brown hair and the most beautiful blue eyes that riming me of the oceans you can only find in the Caribbean. She's got fair skin that's dotted with freckles that I could spend hours counting if I wanted to. She walked up and just as promised she wore a long black pea coat. We walked home together and we stopped at the playground of the elementary school near both of our houses. The we went to the coffee shop I didn't know she worked at. I loved that date. We started dating two weeks later. And from there time seemed to fly by. A few days before that first Christmas I met her family who immediately treated me like family. Christmas came where she met my parents brother grandparents and uncle. They all loved her and told me she was a "keeper". In January I told her I loved her and she said it back. We met each others friends and had first kisses and held hands and we were the happiest people in the world. Because she made the fog go away. She was like the sun and she pushed out all the fog from my brain. She knew exactly how to quiet the voices that raged through my brain. She knew to hold me when I cried and I did the same for her.
It was in late January when my grandmother got sick and my whole world turned upside down. And this time it wasn't the fog that came back but rather a hurricane. And my head was tossed into turmoil and the winds pulled my mood all over the place. Even though I didn't get to see her very much because I was always with my grandmother when I did she brought on the eye of the hurricane if only for a little bit. But as the storm swept on valentine's day came and went and we had a great time together. And just as always, I saw her as the most beautiful girl in the world. She worked Friday and Saturday nights and I would bring her dinner and eat with her sometimes staying unit closing. When I didn't she would usually bring me a coffee or doughnut afterwards. She usually stayed for a little bit to. Around may the hurricane started to turn into a thunderstorm which became rain then a drizzle and lastly a rainbow. Before we knew it, my birthday came around. It was the first birthday in a while where I could enjoy the day.
In May, we were together six months and we went out roller-skating which I don't know how to do. It was her idea. Somehow, she remembered from the first time we went out us talking about how I couldn't roller-skate. She figured she could teach me. And that's exactly what she did. Although I got hit on by a random guy we had the time of our lives. I will never forget that day. In June, we took finals and then it was summer. She went to the Dominican Republic for five days and every single one of those days I missed her with all my heart. She came back the night before her sixteenth birthday and I like to think that I made that birthday magical. We didn't do anything special but we had dinner and spent the day together we sat around and watched movies and cuddles and as far as I know she loved every second of it, and I loved every second of it too. I started work and she switched jobs for a little before going back to her old job at the coffee shop. And then my rainbow suddenly vanished. And the clouds were back takeover mind and this time around she couldn't stop the voices. My grandmother had died I couldn't begin to comprehend that she wasn't coming back and to say the least it was difficult. But Gabby was there gabby was always there. She came to the funeral with me. And she was there when found out. I hadn't cried about it until after the funeral where I broke down and she held me as if her life depended on it and not mine. The summer began to fly after I was stable enough to function.
In September, we started going to school together as I had just begun my freshman year. She showed me around and we would go out for lunch together. We loved every precious second together. All free time we had was spent with each other. We spent Halloween together and ate more candy than we probably should have. November came around and we celebrated our one year anniversary. We spent Christmas together and I got to meet her grandmother. We made my brothers birthday cake together and ate quite a bit. Now it's almost valentine's day again. And I have never loved someone so much. She doesn't have imperfections in my eyes because her imperfections make her beautiful and perfect. She has scars and flaws but they only make her more beautiful more perfect. I don't care what others may think because we are both girls. I love her and she loves me and that's all that really matters, isn't it?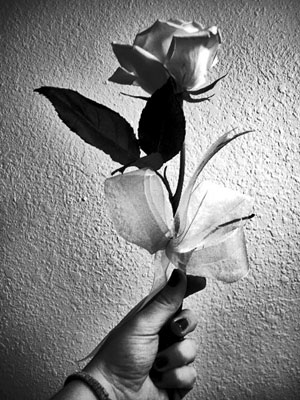 © Lauren R., Edmond, OK