The View Through Two Flags
February 14, 2017
"Where is that again?" The words ring through my ears when I mention Syria and Ukraine. Then I get this funky face which starts with eyebrow scrunching, then comes the lip biting, and finally, a deep sigh. So, to clear up confusion, I sigh, smile, and reply, "It's far away."

I've only been to Syria once, when I was six. I soared through the air on the jumbo commercial jet to arrive to a sauna like weather; the people there are just like that, very warm. This is an important personality trait for the Syrian people. A reception that might not be considered very welcoming would be offering only a few drinks, cookies, fruits, snacks, and more desserts!

I don't have as much contact with my Ukrainian side, so it's harder to know just how to show pride for Ukraine as much as Syria. My aunt Polina always writes me and tells me how life is in the 'North Pole'. My cousin talks about me, and the way my aunt describes it, it seems that she's sending me a million waves, grins, and embraces all in a little envelope.

On my bed is a pile of letters, drawings and gifts from a thousand miles away. I'm laying there, hungrily taking in every word from my most recent Ukrainian howdy in the mail. Then, I lean back and text my cousin, who is at the same time probably laying on her couch, smiling as she replies. Later, I go downstairs and see my mom, spread out on the recliner and animatedly chatting with her mother on Face Time. At that moment, my dad steps through our door waving a letter over his head. "Guess where this is from!", he shouts. "The third one from Ukraine this week!" My pocket started vibrating just then,and my iPod beeps ten times in a row; my cousin is sending me pictures from her vacation.

I believe that people should live out and be proud of their heritage. I sometimes wonder at how bizarre it is that I'm from Ukraine and Syria. Who's ever heard of that combination? I can constantly see the difference from my cultures and the people around me. It's stressed in my house that loving the family and being friendly is very important. A great physical reminder of that is the overflowing box of letters and love in my room. the ten million texts from Syria also shows it. Maybe I need a globe to show people where I'm from, but I hope I show the heart of my flags everyday.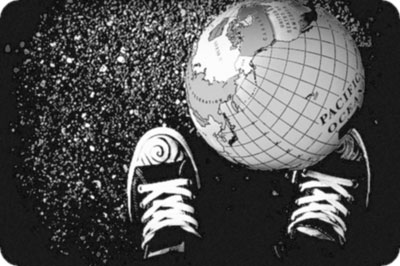 © Kailey E., Crownsville, MD