Thirteen
February 13, 2017
The days were long for a while. Longer than they ever felt before. It is an unusual feeling, knowing that in a few short moments, the lives of all the people who mean the most to me are going to be changed forever when cancer swallows my grandmother's life.

The process of death is chronological when dealing with a terminal illness. I remember the heart breaking news five years ago when I was told that my grandma was diagnosed with stage four ovarian cancer. I wasn't fully aware of what that meant and I didn't quite understand that that was basically a death sentence for her.
After years of suffering, I believed she was going to get better because things were looking up for her. Her chemo dosage decreased and she was up and moving around more than ever. Her soul was always healthy, however. Every day while visiting or on the phone with her, she never failed to ask, "How are you? Do you need anything?" meanwhile she was the one living while suffering. She put everyone she loved in front of her. I never once meant a woman who was so selfless and so compassionate toward everyone. Of course that is said about many grandmas, but my grandma means so much more to me than I could ever explain.

It wasn't until four months and one day after April 11 things began to spiral downhill for my entire family. On April 11, our family received the news that my aunt, the daughter of my grandma, and my dad's sister passed away out of nowhere. There was no illness, there was no accident, just a freak, heartbreaking story to tell. My grandmother stayed so strong through the process. At the funeral, my grandma was able to hold herself together for her husband and my family. She stood strong and hard. Having her daughter pass away before her dying self was the hardest obstacle to endure and I can only imagine the kind of heart wrenching pain she felt, but never once was she unable to stay stable. Her gratitude and her strength was so powerful and was demonstrated so clearly through everything she experienced. My aunt was facing personal family struggles on her own, and three months before this tragedy, she finally was able to escape the problems and start over all with the help of my generous grandparents. Knowing that her life was longer than what her once young and healthy, and finally happy daughter had potential of caused her heart to break and her cancer to come back stronger. It was so inspiring for me to have been surrounded by a woman of such greatness. Throughout everything she has experienced, she never once lost her smile or her ability to make light of situations, not that this was anything to make light of. She held all of us granddaughters under her wing and kept her family strong as best as she could. She never once failed to make sure that we were doing okay, she never once got angry at the world or angry at anyone, she just let life do its thing. She preached to us about how life is the weirdest thing and that there isn't anything that can be expected because life comes fast and it doesn't pause. My grandma was sure that we would be okay. She knew that no matter what happened we would be able to get through it as a family.

Days turned into weeks and weeks turned to months. The days were extensive and they were stressful. One day felt like a whole week sitting in her house. Two weeks before she died, her care taker handed us a booklet explaining exactly what was going to happen with her as her body just could not take it anymore. We all knew that her life was ending, but after she battled cancer for all these years and experienced losing a child, we all had assumed that she was going to break the curve and survive because she proved that she could survive anything. That is what she deserved anyway.
The booklet gave step by step explanations of what was to be expected as someone is dying. The booklet said that her breathing would decrease and that is how we would know that the end is coming. Every day, her breaths got slower and less consistent. It was basically on a timer. Every day of the last days of her life she took less breaths. I can only imagine the amount of pain she felt. It hurt so badly to look at her hurt the way she did. It was so apparent in her face that she has suffered the most pain there is and it was so unfair for her to have to go through this with the kind of person she was. Her body winced with every flash of pain. But we knew that she was okay with what was occurring because she did not have one angry bone in her crippling body. She never lost her spirit, that is for certain.

As my family and I sat in her living room on August 12, we knew that that day was the day. The day our lives were going to be changed. My cousins and I did everything we could to keep ourselves occupied but I remember feeling like there was something I was supposed to be doing. It hurt me so bad to walk into my grandmothers living room and see her almost lifeless body lay there. It was so hard to see a woman who has done nothing but be so grateful to me and do nothing but love me and give me anything I have ever needed and watch as there is absolutely nothing I can do for her in return.

Looking at my grandfather lay with her for the last time was so heartbreaking because he also has nothing he can do besides hold her as she takes her last breath. My grandfather is the most difficult person I have ever met. He's very stubborn and close minded but he has still always been there. He is a tough guy and like my dad, he has no idea how to process emotions. He seemed numb, like there was just nothing he could do but cry. It was hard to watch the big tough guy cry, since my whole life he has told me that there is nothing in my life I can't handle. He taught us to be strong, too. Him and my grandma were the two strongest people I have ever come across. He was hurting so badly, too. His daughter was taken and now his wife. I remember being able to see in his glassy eyes that although this was so unfair and very hard to watch, he knew that his love was going to finally be out of suffering and happy with her mother and her daughter, and that gave him a feeling of peace.

As for my dad, I remember feeling the anger he had during all of this. My dad never believed in any type of religion, but his family did. My grandma was a very holy woman and went to church every day so long as her health allowed. I remember my dad being so angry that she spent her whole life following this religion based off of love for her to have to suffer and hurt for such a long time. My dad is a very emotional man but has a very hard time expressing his feelings. He masks his sadness with anger, so losing his closest family members was so hard for him but it was too hard for him to express it through grieving with the rest of us, so instead he just got angry. He was angry with everyone and that made it challenging for my mom, my sister and I, but everyone deals with pain differently and it is hard not to be selfish with the way you feel about a situation. It was hard to see my dad like this considering I have never seen him cry, and even during all this he could barely let out a tear.

As for myself, I remember not knowing what to do. There was so much I wanted my grandma to see and to know about me. I always thought that her and I were very similar and that I would be like her one day. I at least always hoped to be able to grow into half the woman she is. I started having a lot of personal problems when I reached the age thirteen and on my thirteenth birthday, my grandma gave me a necklace that had a "thirteen" charm on it. For some reason, that always stuck with me and helped me believe that she somehow knew I would need that. Later, for my sixteenth birthday, she gave me the rosary necklace that she wore daily. I felt very special, but I had no idea why she gave her least religious granddaughter the rosary, I felt like I didn't deserve it. On August 12, I finally worked up the courage to ask my family if I could have my minute with my grandma before she took her last breath. She held my hand as I walked into the room to sit beside her on her couch. I expressed to her how thankful I was for her for giving me those special things of hers. I told her about the struggles that I have been facing and I told her I admired her for being the way she was with how she handled things and how selfless she was. I basically just got to sit down and tell my grandma everything she meant to me when I should have been doing that my whole life. She sat with me and held my hand and smiled as she asked me to say a "Hail Mary" prayer with her. Since she was a woman of such strong faith I agreed and as soon as the prayer was over, she took a long breath, and that was the end.

For one split second after I realized what happened, I felt a moment of peace and serenity. It was comforting to know she was at home with people she loved. But shortly, after that one blissful moment, I remember the world falling apart for everyone in the other room. My family's hears all simultaneously erupting behind me.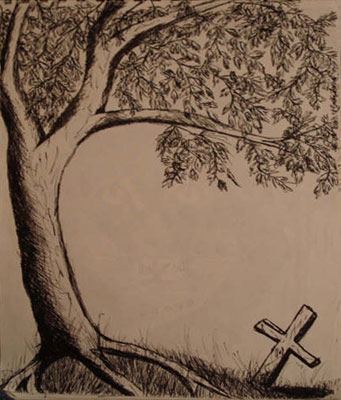 © Courtney K., Bethel Park, PA