Chasing the Horizon
February 10, 2017
Doesn't it feel like time starts running as soon as we're born? I have lived only fifteen years in this world and I realize just how much time has passed by. I didn't get a chance to appreciate the special moments, memories, occasions, and the most important people in my life before. When I look back, I see  broken memories, and scattered faces, but I also hear laughter, and feel cold shivers, just like that one night on the beach...

It was a  cold, windy, January night.  We were sprawled across the chilly sand. As the late hour passed by, the night only grew colder. We could hear the sounds of soft waves gently running into the rocks. The echoes of our laughter were getting lost in the wind. I shivered underneath my jacket, feeling the goose bumps form on my skin. The night sky was alive with the twinkling stars, and the only source of light came from the luminous full moon shimmering down onto the water.
The moon seemed to have created a pathway towards nirvana as the water sparkled underneath its light.

All four of us were sitting in a circle. There was soft music coming from the speakers. My friends Fayza, Hadil, and Arielle sang along to it. Arielle was singing the lyrics wrong as usual, so Hadil had to pause the music and tell her to stop ruining the song.

After a while, we noticed that the sun started peeking over the horizon. We turned to face the water and watched quietly as the sun lit up the sky, making the water glisten. 
The view was simply beautiful.

"Guys I can't believe this is our last yearin school together," Hadil said.
Arielle put her head on my shoulder. "Until December. I just feel like skipping the next eleven months of my life to December when all of us reunite again."

"Yup, time passed by pretty fast," Hadil said as she stood up and wiped the sand off her back. "Each day that passes by without us doing anything adventurous is a day wasted." She moved toward the water in her tank top and her sweats, and surprised us all by immersing herself in the cold water. She turned to face us with an inviting smile.

"Are you kidding? You guys wanna get in the water the day I finally wear jeans?." Fayza complained.

I decided to take part in this exciting, yet stupid idea, and yell, "Arielle, you're going down." I dragged her into the water with me, and started splashing.

Soon, all four of us were in the cold water, far away from the shore, occasionally trying to drowning each other. 
After a while, we stopped. For the first time there was silence among us. We just watched the sun rise from the horizon. The late hour turned into a symbol of early morning. The sunlight blended with the sky, and underneath it, we stood with each other in the water, lost in time.

These four people slid into my life, like a car easing into a parking space. From giving me a compliment about my hair back in third grade, one ping pong game in fourth grade, and randomly selected partners in fifth grade, we were standing in the ocean years later with so many significant memories. Things we cried over before, we laugh about today. We smile proudly at ourselves for helping each other overcome fears we kept hidden.

Goodbyes are bittersweet, no matter what kind they are. Now, all of us are in different parts of the world, continuing our education with different people. We only get to see each other during vacations.

One thing I know for certain is the inevitable. One day my time will stop running, my clock will stop ticking, and my heart will stop beating. All that will be left are broken memories, scattered faces, and words I never knew meant something. I believe that time is a very precious thing. The moments that come along with it are just as precious. Sometimes we don't realize that until it slips between our fingers like sand.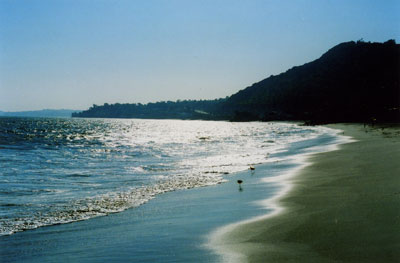 © Adam L., Washington, DC