The Move
November 16, 2016
I walked into the classroom looking at all the new and unfamiliar faces. Oh god! I was so nervous! I was hesitating to take another step. I was so scared. Why did my parents have to move?, I asked myself. Life was so perfect before! I don't know anyone here. What if no one likes the "new kid"? Hopefully, I will be able to make this a successful and fun year, and will be able to make friends and fit in, in this school. Let's go back to a few months ago. We just moved into our new house in Bloomfield Hills, Michigan in the hot summer of 2009. It is so much bigger than my old house. Although this house was big and lavish compared to our old condo, I was very attached to that house since I had so many memories connected to it. My birthday parties, playdates with my friends, riding my bike in the afternoon to the "white castle" in my neighborhood to meet my neighbor friends and playing duck-duck goose. Unfortunately, I had to leave it behind. I already knew that I was going to have to switch schools, but I was nowhere near ready for it.

My parents told me that the year after I would have to move to a new school because I had got to stay one more year in Maria Montessori Center, the school that I was in at that time, even though we had already moved to Bloomfield Hills. They were trying to encourage me that it would all be okay and I will make so many more friends. I was shattered inside. How could I leave the school that I was going to since the start of my school career up to second grade? My favorite teacher, and most importantly all of my friends!? I guess I was going to have to get ready to get out of my comfort zone and move on.

Back to the first day of school, September 2010. The bus came to pick me up from my neighbourhood. It was going to be my first time riding the bus. I stepped onto the bus, the bus driver kindly smiled at me. I try to find a seat on the bus but I can't. There is so much loud chatter, and music playing from the radio over the speakers surrounding the entire bus. I finally found some people that I recognized from the day I had shadowed at the school.

"Hey! How was your summer?", one of them asked.
"Mine was great! How was yours?" , I replied.
"It was great! What teacher do you have?"
"I have Mrs. Lumsden."
"I have her too!", the other girl said.

One of them was in my class! My nervousness toned down a little. At least I knew someone in my new class. We finally got to the school after a long ride that felt like years had went by. As I stepped down the orange bus, I was stunned to see so many kids waiting outside for the doors to open. After a few minutes of, the bell rang loudly, "Brring!", and the crowd of kids swarmed inside. I walked into the brown-red bricked building, it is so much bigger than my old school in Farmington Hills. Also we didn't have to wear those navy-blue uniforms! There were so many more people here. Strange faces, colorful classrooms, such a big library filled with hundreds of books. I walk into my new classroom. I could hear voices coming from everywhere. Everyone's talking to each other about what they did over the summer, and all the cool places they went to visit. There are a couple of new kids, maybe I can be friends with them. As the school year went by, I made a few friends over the first few weeks. But I was still missing my old school and friends. For some reason, I could never consider the school as my own because it was so different from my private school.

I didn't really fit in, because I didn't know much about the latest music or the latest tv shows at that time, or I wasn't very involved in sports either. The closest thing to a sport at my old school was playing soccer during recess or doing double-dutch on the blacktop outside with friends. I couldn't always be a part of the conversation. There were also so many other things I liked about the school. More different classes, travelling outside the classroom and bigger space. In my old school, since we were a small amount we were more close. In that school, preschool and kindergarten were in the same classrooms, 1st, 2nd, and 3rd grade were in the same classrooms, and 4th, 5th, 6th, 7th, and 8th grade were in this huge faded white trailer-classroom outside the school. As time passed, I started to enjoy my new school. Most of my classmates were very friendly and nice. Although there were some issues and difficulties along the way, it was not greater than the moments of enjoyment in those years. I started making conversation with more people, and learning about new things, and turning negative moments into positive ones.

Ultimately, even though I had a bumpy ride along the way, I learned that there will be changes in your life, but you have to find a way of overcoming it. I am very happy now and I am also still friends with people from my old school, Maria Montessori. You need to find a way to cooperate with any situation that life throws at you and make the best out of it. It doesn't mean that I don't miss it, but I am not so overly attached to it anymore. I still visit my teachers there when I have a chance and am able to rekindle my memories there from so many years ago. I will never be able to forget my time at MMC but this move will always be a very memorable experience.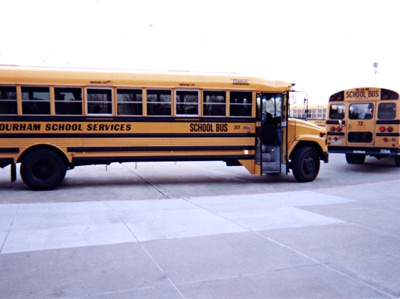 © Blake B., Highland Village, TX