Happy: A Memoir
November 11, 2016
It has always been my belief that people could remain moderately happy through most difficult situations. The same goes for growing up. While we are often expected to mature with our bodies, I have come to believe that doing so without fighting to keep your childlike imagination and beliefs at least partially intact leads to a depressed and empty person who feels that they lost everything they once had without any real explanation of why they feel that way. I became that person, but I found myself again. This is a glimpse of my story.
I am eight years old and it is December. There is thick slush on the roads, mottled with grey and brown and black, and indented with tire tracks. The snowflakes illuminated by the lights in the parking lots could almost be mistaken for insects, as if it were a summer night. The constant blast of heat on my face, pitch black six o'clock sky, and puffy winter coat tell me otherwise. I'm thinking about sled riding, and Christmas carols dance through my brain. When we get to the Walmart, I fight again the harsh winds to open my door and hop down into inches of crunchy snow. I look up at the fat snowflakes lazily falling and smile as they tickle my cheeks. My mother takes the tiniest of steps all the way to the door and my father and I laugh. The greeter asks if we want a smiley face sticker, and I secure the large, yellow circle to the back of my hand. I stand on the end of the cart and my father turns it from side to side as we move along, eliciting sighs from my mother and giggles from me. Life is simple, and I am happy.
I am twelve years old and it is November. I do not look at the roads, or the snowflakes, or the sky. There is no greeter at the store, and the stickers and giggles have vanished with him. I've learned to drone out my mother yelling, and I don't smile unless I have a reason to. My grandmother passed away in May. No more homemade bread or soft grey hair being fussed over. No more laughing as her cats meowed up a storm. I give up on believing in fairytales and miracles, like cures for cancer. I often wonder what it will be like when I can no longer visit her old house; a great, old, creaky thing with floral wallpaper and ancient furniture. There's a blueberry bush under the maple tree in the front yard, and I like to stand there and look at the hills in the distance, always thinking. The divorce will be final in a month or so; my mother has found an apartment, and has been working since March. She likes her job, and has a meeting soon with a man who wants to start a daycare; one of her old dreams. When she comes home hours late she smells like cologne. They went to a movie together. Life is complicated, and I am far from happy.
I am sixteen years old, and it is October. A year or so ago I realized how much I had changed. I blamed the circumstances and events that had occurred at first, but then I realized that it was no one's fault but my own. It was not me growing up or maturing; I gave up. I allowed my losses to define me. In this day and age where someone has done everything, and everyone has done something better than you, it can be hard to hold on tight to what you wanted when there were no limits to your imagination. Even though this is true, I have begun to look at things again and really see them; like the stars, or the changing seasons. I love sunsets; the way it looks as if the pinks and yellows and lavenders were all lit on fire and smolder as the sun dips below the horizon. I am an artist and a dreamer, and I will smile at the snowflakes when they come.
I am happy.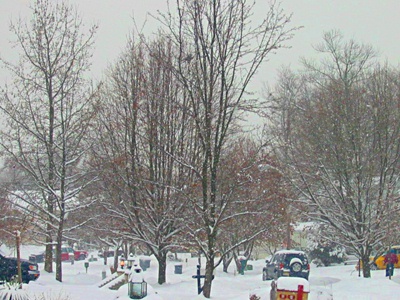 © Kristen S., Sewell, NJ