Snowflake
November 10, 2016
The carpeted stairs muffle my feet as I make my way down them. They feel like a worn blanket through my socks. Out our age smudged window I can see Mom's car pull into the driveway--sleek and black against the dying sky. It's time to find out.
The night before Mom called the veterinarian's office. Our sixteen year old cat Snowflake hadn't been doing well. Six months prior he'd been in near perfect health: walking around the house, jumping on the couch, getting bullied by our orange tiger Ginger. But about a month ago, he had become only bones. His two-inch white hair had begun forming clumps because he no longer cleaned it. His former elegant walk turned into a painful waddle. He couldn't even leap onto our two-foot couch for petting. I remember when I was younger I thought he looked like a lion whenever he stood, his mane falling behind him, but in his current state that connection could not be made. Snowflake was dying.

Mom had taken him in to see what the problem was, and if we could help him. I didn't know what I would do if Snowflake didn't make it. He had been in our family longer than me. He was a constant member of the household. It would feel empty without him. No more white streak surging down the hall when guests arrived. No more tip-toeing into Mom and Dad's bedroom to pet the scaredy-cat. No more gray tailed feline prancing around our kitchen, mewling for his can of tuna.

I shuffle the rest of the way down the dirt-encrusted stairs, afraid of what I will discover. I can see Rose outside getting the mail, and her face is the color of watermelon juice--pale red. Like what happens after you've been crying. I am afraid.

Walking through the entryway, I hear the noisy slide of the cat-door opening. Krr-churr.

Is Mom placing our cat in front of the food bowl to eat after a visit to the vet, or is she placing a carrier void of its terrified prisoner?

Coming into the kitchen, I ask the question I fear the answer to. The reply makes my breath hitch and heart halt its beating.

" Is Snowflake back?" I inquire, clutching my iPad close to my side.

Mom stands
Turns
Looks at me
Looks away
" No."
Tears fall.

I sit down in the blue chair, but no sobs escape me.

Friday, September ninth, Snowflake failed to come home. Friday, September ninth, our puffball of a cat walked around the living room for the last time. Friday, September ninth, there was

No
More
Snowflake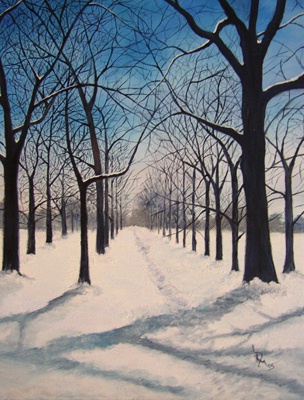 © Lauren M., Scotch Plains, NJ