Out of My Darkest Place
September 16, 2016
I sat in the second row from the back of the class room next to a new friend, and some guy that made fun of me for being really pale. The seat in front of me was always empty, and the seat behind me was taken by a girl that I didn't really pay much attention to, but I remember laughing at her when she came to school wearing blue eyeshadow, lipstick, and dark clothes. For some reason, I felt like she was trying to look goth because I was goth. But at that time, I had a lot of pride.

Over the next couple years, my social life was pretty great, I was a little insecure about my body because about a year after that, I gained a bit of weight. But as long as I was dressed right, and covered, I felt like I was on top of it. I only saw her a few times after the class I had with her was over, but we never talked.

One year when school started, I made a new group of friends, but they weren't exactly the best students. They were the ones in my graduating class that were known for participating in illegal activities. They started to get into a lot of trouble, and I started getting into a lot of trouble with them. I was pressured to do things that my elementary school self would be disgusted with.

All of my closest friends had been expelled, or just literally faded into a different person. I made a new friend, but she had depression, and soon had to leave to a rehabilitation center. I was alone. Every morning when I woke up, I dreaded leaving my house. I just wanted to go back to sleep, and stay asleep. When I was asleep, I didn't have to interact with anyone. I didn't have to face my parents. And when I was awake, I cried a lot.

One morning, I was waiting for the bus, and that girl that sat behind me was there. I had never seen her at my bus stop before, and I had soon found out that she had just moved into my neighborhood a couple days prior. And she had been spending a lot of time with a friend of mine that I hadn't really talk to all that much anymore. But they were both involved in some drama with guys that they were talking to.

After school I was sitting in my room listening to music, staring at the homework that was do days before. My grandma came in to tell me that a friend was at the front door looking for me. I was confused "what friend??" I was not allowed to hang out with any of my friends because my parents didn't approve of their activities. "I don't know. I've never seen her before." My grandma said.

When I got to the door, she was there. We have never talked, we aren't friends, why is she here? And why is she crying? I asked her what was wrong, and she filled me in on all of her drama. She told me she was stuck between two guys, and she didn't know who to pick. She needed someone to talk to, and her friend that she has in the neighborhood wasn't home.

She started to come over more and more until she ended up coming over every day. We sat outside for hours when she came over, and talked about her drama. And I told her about what was going on with my life. I explained that some of the things that people had been saying about me were true, but most of them weren't. she listened, and we easily became friends. I rarely left my house, so whenever she needed someone, I was a couple blocks away.

Over the next few years, we did everything together. She pushed me to be more comfortable with myself, and break out of my social boundaries. And I helped her to take control over herself, and to push to stop being someone's puppy dog, and to be her own person.

Now when I look back at the life I had before I became friends with her, I feel a kind of happiness that cannot be explained. I don't think she knows this, but she saved me. She pulled me out of my darkest place, and I don't think I would be who I am today if it weren't for her.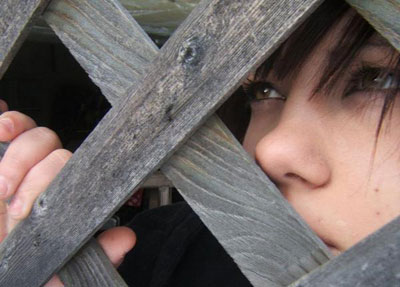 © Krystal B., Bloomingdale, IL