Coffee Shop
September 2, 2016
I hate coffee, and yet here I sit. Surrounded by the heavy bitterness in the air with the jarring undertones of sugar and cleaning products. The moms with short blonde hair picking up their mile long drink orders and the guys with beards sitting alone, leafing through a book that I have never heard of. The low tones of a 4 chord guitar song playing through the room with no discernable source in particular.
Across from me sits a woman and her child, heavily illustrated pastel floral prints plaster their clothing, statement jewelry dangles from their necks like an ornate chandelier which illuminates the out of season sunkissed glow painted on their skin. The mother plans a college visit as her daughter's eyes glaze over staring blankly at her overly shined shoes. The daughter holds tightly to a textbook larger than my distaste for the yellow shirt she wears.
Who am I to judge her clothes, I'm wearing a shirt borrowed from a past boyfriend I am hopelessly in love with.
I have nothing else to wear.
A man is sitting to my right, rigid and tall. Beads of sweat form lightly on his brow with every passing moment as if water starting to boil. His fingers twitch nervously then he removes a dulled and dirty gold circle off of his finger and places it in his pocket, his eyes darting from left to right. A woman walks into the room to meet him, her red heels echo jarringly through the peaceful sound of a guitar rift. He says he's got somewhere to be, this can not take too long.
Who am I to judge his choices, I have no plans in my agenda that beg for my time, no one waiting for me back home.
I have nothing else to do. 
Finally, a girl in he corner and hides her face in a phone. Her oversized shirt matches the dark half moons underneath her eyes, they give her a childlike vulnerablility, it scares me. Her hair is gathered loosely back into a pile of black tendrils as if the darkness of the night is consuming her in whole. She carries a drawstring bag, bursting out the seams with useless articles that give her comfort, she sighs as she opens it and draws makeup out of its depths. She begins wiping away at dried streaks that obscure the constellation of freckles across her reddened cheeks. A bible quote sits as a lockscreen and holy bruises lay across her neck. I hate the dark, bitter coffee she sips down as she chokes back dark tears. The girl is weak, like a leaf so close to succumbing to fall, waiting for that final crisp breeze to knock it to the ground.
Who am I to judge? The girl is me.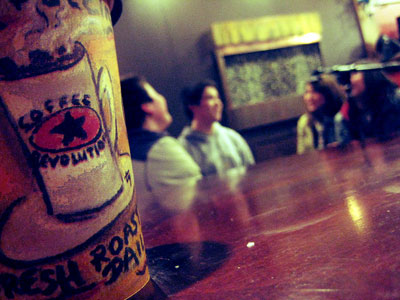 © Seita O., Palatine, IL