Finding the Loch Ness Monster
MAG
January 19, 2016
There are many trials a four-year-old boy must face. The daunting task of learning to tie one's shoes, mastering the alphabet, and coming to terms with the fact that life is without meaning and we are doomed to an existential nightmare. I still have trouble with the first one.
Like most children, I truly believed my parents were all-knowing and all-powerful. They still insist this is the case, to this day. As much as I would love to believe it, I simply can't. And for this I have to thank an amphibious Scottish plesiosaur.
I had just gotten back from pre-school and was ecstatic to tell my parents all that I had learned. Like a wood chipper, I would process all the information I could and pepper my parents with it. I can only remember two other times in my life when I was so excited by my mastery of shapes and colors, and one of them was last year. However, there was one thing I was even more excited about. I had recently learned about the Loch Ness monster. So I asked my father a simple question.
"Dad, is the Loch Ness monster real?"
"I don't know."
The words hung in the air, ringing in my ears. He didn't know. Suddenly, I was reeling, drowning in a Scottish lake of uncertainty. If my dad didn't know if the Loch Ness monster was real, how did he know that God was real? Were cartoons real? Oh God, Mickey Mouse's House of Mouse wasn't a real place! I would never see the Quack Street Boys live in concert.
Who was I, if not a cryptid, floating in the loch of a nonexistent life. I was a speck, a nothing, my life was as much a hoax as all the alleged photos of Nessie. I started crying hysterically. Then a thought came into my mind. A moment of clarity, if you will. If I could find the Loch Ness monster, I could prove that God existed and cartoons were, in fact, real. So I set off on a mission to Scotland. The fact that I did not know where or what Scotland was didn't deter me. I would prove the Loch Ness monster's existence and somehow prove my father's omnipotence.
Unsurprisingly, I didn't prove Nessie's existence. I didn't redeem my faith either. I think everyone has a Loch Ness monster, a condition that establishes faith. Some find theirs, others don't. I guess I am still searching for mine. Without an absolute truth or omnipotent teacher to guide my actions now, I have become dedicated to finding meaning in the shared struggles and triumphs of humanity. As an aspiring writer, whether it be in journalism or screenwriting, I recognize how stories from people of different cultures, perspectives, and philosophies ultimately share many themes. Compassion and empathy are forces in these stories that allow character to connect with character, author to connect with audience. As an author, I hope to expand my readers' capacity for empathy by painting universal themes of humanity on unfamiliar landscapes. Hopefully, I can help someone find meaning in our shared experiences.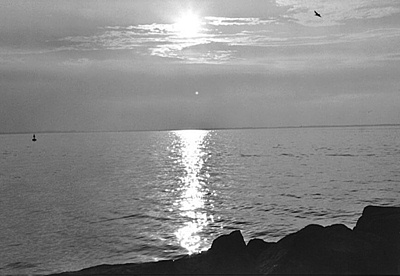 © Amanda L., Cumberland, MD