My Mother's Ungiven Testimony
MAG
October 23, 2015
They say what doesn't kill you makes you stronger. But what about those who keep on living even when they don't have an ounce of strength left? My mother was one of those. No matter how hard she tried, what didn't kill her only brought her down more.
The Queen of California is what many called my mom. She grew up surrounded by the loud rush of cable cars, the salty breeze, and the groovy lingo. Classic rock legacies such as the Mamas and the Papas and the Rolling Stones were always playing on her record player, and she never missed a music festival. I recall her stories about attending Woodstock in 1969. I remember her describing the rush of sneaking past the cops to get in, trying new "flavas" as she called it, and the thrill of seeing Jimi Hendrix perform "Purple Haze" on stage.
Music was her life, not school. She recalled skipping class to meet her friends at "the wall," as they called it, to smoke and contemplate life after high school. Never did she imagine she would end up in a suburban town in Georgia.
Underneath her apparently carefree and beautiful existence was a tortured and destructive home life. Hard working and optimistic, my mother's parents appeared a typical middle-class family. My grandmother took great pride in her yard and in providing a groovy hangout spot for my mom and her friends. My grandfather made a suitable income operating the railroads of Northern California. However, once the sun went down, the picture-perfect life ended.
My mother's parents were alcoholics. She recalled waking up to her father saying, "Come here, dumb b***h" and making her submit to his dominance, verbally and physically. She was terrified and not even 17 yet. She had no way to escape, so she suffered through his abuse night after night. She told herself, I'll get through this, but he never stopped.
The pain and betrayal my mother faced shaped her. Cigarettes, drugs, sex, and, ironically, alcohol took over her life. She found herself falling into a sinkhole of desperation and confusion. The wall became her reason to avoid school. It was as if she threw each beautiful aspiration in the world away. Her sense of self-value would not return until she moved to Georgia, but her habits never changed.
Finally my mom packed up her bags to escape her shameful past and found a two-bedroom apartment in Macon, Georgia. She could breathe because she had escaped her dysfunctional family life, but she still struggled to escape her addiction.
By day, my mom worked as a retail assistant for the local mall. She established lifelong friendships and even grew strong enough to give up alcohol. With her freshly gained confidence, she fell in love with my dad, and they got married. Shortly after, she would fall in love all over again with the arrival of my sister and me. Life seemed perfect.
My parents lived a fortunate lifestyle. Dates to five-star restaurants, lavish parties, and luxurious vacations around the world filled their busy lives. However, my mother still felt the lure of alcohol and drugs. Soon enough, she fell back into her teenage habits. Even when my dad, the most loving man on earth, offered to help, my mother took it for granted. Distance replaced date nights, and soon another man replaced my dad. It didn't take long for my dad to figure out her schemes. Eventually he gave up the long-fought battle and gave her a divorce.
Life carried on, but my mom, angry and desperate, became the twenty-first century version of the two people who had hurt her the most. My sister and I grew up thinking it was normal to see her passed out on the kitchen floor.
Although much of my childhood was grim, I remember many bright memories with my mom. I remember the smells of home-cooked meals filling the house, her glowing smile that appeared each time my sister or I made an A, or the long hugs we would share when one of us had a bad day. These memories are what keep me going. As I said earlier, what did not kill her only made her weaker. I hope that her eventual passing gave her the peace that she had desperately searched for all her life.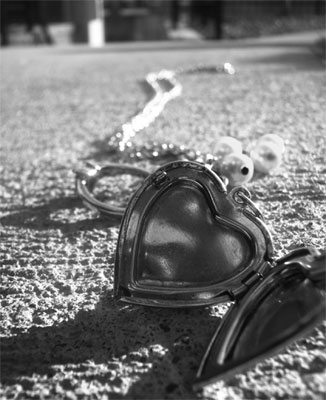 © Francesca Y., Robbinsdale, MN