Seasons of Love
October 12, 2015
"Love conquers all." It is a classic romantic cliché, one that calls to mind images such as the mad dash through the airport, the sight of a loved one awaking from their coma, or the kiss in the pouring rain. What most people do not consider, however, is that there are different kinds of love. One can love a family member, a friend, a place, a job. If they love whatever or whomever that is enough, then is it possible for love to conquer all? I believe so, because this year, I learned how the love among a team can overcome the loss of something loved by the team, something that gave us all a home and a family.

Village Swim Club was established in 1962, but I did not join until 2006, when I was six. I learned to swim at Village and loved the pool right away. It is a small pool club, and we have less money than other, bigger clubs. Tiles fall from the walls, only a quarter of the showers work, and the starting blocks are likely to fall in after the swimmers if no one holds them down. The team always complained about the state of the pool, but because we loved it so much, we came to love its little quirks too. It was not until this summer, when we were told that it was Village's last season, that we began to appreciate Village. Everyone spent more time there, and we grew closer as a team, as a family.

One day that captures the love of Village's team, both for each other and the pool, is our final Championship meet. I woke on the morning of Championships with an odd mix of excitement and despair. Few people came to the pool in the off-season of August, and I knew that this was one of the last times we would all be together as a team. I wished that I could just go back to the beginning of the summer and have more time with everyone. When I arrived at the pool, I could tell that most of my friends felt the same way. We all tried to make the best of it, though; we drew all over each other and signed each other's swim caps. I entered warmup in high spirits and was looking forward to the meet. After everyone had warmed up, however, we had a pause in the meet to pass out awards dedicated to one of our young coaches who had passed away the year before. Our head coach began to cry, and I, along with a few others, ran up to hug her. Everyone around us joined in until the entire team was locked in one huge embrace, and even though most of us were crying, it brought on an overwhelming sense of family to begin the meet. Village is known for our team spirit, and at that meet, we cheered more than we ever have before.

The moment when I accepted that Village was over came during the relays, when one of our youngest team members, Paige, started to cry. She was on my relay, so I was the first one to notice and to comfort her. When I asked why she was crying, she could barely manage enough words to tell me that she was devastated because this would be her last race on Village. I hugged her and tried to calm her down, but as I did, I realized that I felt the same way. Village had been my second home for nine years. I loved Village and everyone on it, and I was not ready to leave. I started tearing up too, and when the rest of my relay and my coaches noticed, Paige and I were cocooned in a group hug. In that instant, I knew that, although we would miss Village, it was not what kept us all together. What kept us together all those years was our love for each other, as a team and a family. With that love, we would always be connected in some way, no matter what. When our event came up, we broke apart, and I was not the only one wiping my eyes. I was the first in the race, and I felt even more reluctant than usual to climb into the pool. When I dove in, I was determined to race my heart out, but I also wanted the race to last forever. It was my last one on the team, and once I touched the wall, all of it would be over. My time on Village would be done. Before I knew it, I was closing in on the wall. I drew one more deep breath and sprinted into the wall, and in a second, my time as a Village swimmer was over. I climbed out of the pool, blinking back tears, and turned to cheer on my relay for the last time.

In being at Village for nine years, I have learned many things: how to swim, how to dive, how to put in lane lines, how to adjust the water. My most important lesson did not come until last year, though, when I learned about love. Love is not just in the mad dash through the airport, the sight of a loved one awaking from their coma, or the kiss in the pouring rain. Love is in sharing water bottles at practice, cheering for your teammate during a race, and ordering a pizza to the pool for lunch. It is in games of "kickboard tennis," "Village Ball," KanJam, cornhole, keep away, tetherball, and Sharks and Minnows. It is in climbing up on the roof, making a campfire and roasting marshmallows, and sleeping outdoors with friends. Even though our home is gone, our family is still there. This I believe: the love of the Village family can conquer all, and it will last a lifetime.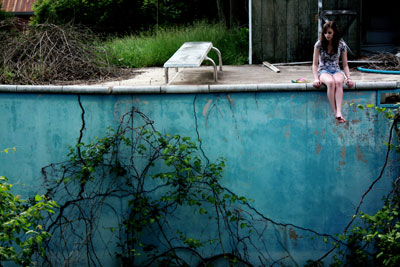 © Myra K.