The Last Days of Judas Iscariot
September 18, 2015
Lights dimmed all around me. The music starts playing. I grip my seat in excitement as the eerie sounds start to play all backed by the soft comforting sound of rain. I couldn't believe what was happening! After all these years I was able to finally see my favorite theater group perform live! Heart racing I focused my attention on the stage. Louder and louder the music played as the rain became softer. Then silence hit the room. Light suddenly hit the stage, it was as if heaven was shining through the building. I gaped in awe at the beautiful sight. Diamonds danced through the lights playing and laughing. A swirl of mist surrounded them making the light sparkle and glitter.

I was so entranced by the sparkles that I had not noticed the woman entering the stage. The faint sound of gasping surrounded me as the rest of the crowd took notice of her. She looked like she had jumped straight out of the Bible. Like an angel sent from heaven she stood in the sparkly light. With her hands crossed and her face somber she stood like a statue.

All was quiet as we all waited for her to speak. After what seemed liked ages she finally said, "A mother should never have to bury her child."

As she continued her monologue, time stood still. The room itself stopped breathing, nervous as to what would await for us all as the night went on.

My palms became sweaty with nervousness. I had assumed that this play was going to be a comedy. The woman's words smelled of sadness, and heartache. I felt horrible. My legs twitched telling me to jump onto the stage and give the woman a hug telling her it would be okay, but I remained planted in my seat as a sudden voice filled my head. "This is a dramatic comedy, with a combination of funny and serious elements in it. Just sit still and wait. You will laugh when the time comes. You just have to wait."

As suddenly as the voice came it went away, making me aware that the woman's monologue was ending.
"I just hope I will be able to see Judas again and hold him in my arms. Sadly that is not my decision to make, and it is not yours either." With a sigh she looked at all of us in the crowd giving us a mothering smile and said, "This is the last days of Judas Iscariot."

The heavenly light dimmed and she disappeared. The eerie music starts playing again with rain softly beating on the stage.

As I sat back in my seat and watched the rest of the performance I felt a sudden yearning, the yearning to be a part of this. I had no interest in becoming an actor, but I still wanted to be a part of this. The play was extremely well written, the music was beautiful, and the actors looked like they genuinely were having a fun time. And all of that interested me. I wanted to have that type of connection. I wanted to be a part of a fun group of people and make these type of lasting memories. I had no idea on how I was going to do that, but I knew that whatever it took to get there it would be worth it.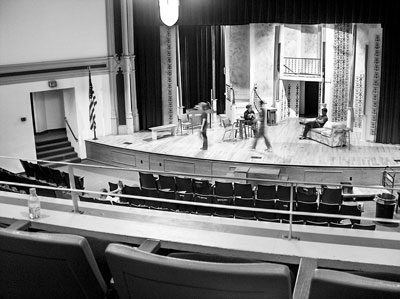 © Sean C., Princeton, IL