When I Learned to Give
September 4, 2015
There are times when I pass the tiny wooden, faith bracelets sitting on my dresser, and I remember that incident. And when I notice beautiful almond eyes similar to the ones that met my own that day, those images come flooding back. The memories I have from that humid yet gorgeous summer with my family in Kerala may be few, but they taught me many, many lessons.

I really hadn't known where we were going; every time I asked my mother she simply squeezed my small hands in hers and promised me that whatever it was, I'd like it. Considering the fact that I didn't want to spend the remainder of the day stuck indoors, I heartily agreed, and soon after I found myself snuggled in a small auto-rickshaw with my family.

I sat by the protective grill, hooked my arms with my brother's and relaxed, just as the little vehicle began to move. It was a beautiful ride – I remember that, with the skies clear and blue – but what stood out to me were the fragile clumps of white flowers lining the gravel road, catching the light of the Indian sun. I leaned out the window and counted them. It amused my six year-old self, and my mother tells me I wondered aloud why God gave us such pretty flowers when He could have kept them all for Himself.
By the time I had caused the driver to ask me to "Please keep your head in the vehicle, miss" two or three times (Pius.), we arrived at our destination. The gates were the first thing I saw, huge and rusted by the monsoon. But my fascination quickly waned, and I squirmed under the scorching heat. Joel, my brother, who was ten at the time, ignored my discomfort and touched my arm with an excited look.

"Look up ahead," he told me. I stood on the tips of my toes and saw a pair of nuns behind the gates, coming from what seemed like a rundown, old building. They were waving and greeting us, and after a quick exchange of rapid Malayalam (which I could barely understand, only fueling my frustration at not knowing where we were) the sisters led us through the gates and into the buildings tucked behind them.

We moved from room to room, but I was still unable to figure out where we were. In one room, making sure the adults were occupied, I poked Joel, who turned towards me with a raised eyebrow. "What is this place? And why are we here?"

He poked me back. "It's an orphanage, dummy. For girls. Sometimes parents don't want to take care of their kids, so they give them to the sisters here."

I cocked my head. "Why? Is something wrong with them?"

"Of course not," interjected the taller sister. She walked towards us, followed by my parents and the other sister. She smiled knowingly at my guilty look. "Some of the girls are blind, or deaf, or have Down Syndrome," she explained. "The world is a little different to them." She stopped and glanced at my parents appreciatively, who smiled back. "Your parents wanted to come to say hello and make sure the girls had what they needed."

In response, I stood quietly – I didn't feel so talkative anymore. Noticing my silence, the second sister gently lifted my chin. She smelled faintly of coconut. "Would you like to meet the other children?" she asked softly. I nodded yes, still quiet, and in a few moments, she returned with a five year-old girl wearing shorts and a coy smile.

"Say hello, Anna," the taller sister whispered, trying to encourage her. I didn't think she needed it. Before the sister even finished, Anna had dashed to Joel's side and tugged at his hand, playing with his special bracelet, the one depicting scenes from the Mysteries of the Rosary, and the one he had worn and protected for over a year. I stared at him quizzically. He was usually so protective of that bracelet. Why was he letting her pull on it?

I didn't know why he was acting so differently, but I decided that I too wanted to be friends with this girl. I took her hands in mine and crossed my eyes, making her shriek with laughter. She threw back her head, and for the first time I truly studied her. Her eyes weren't like mine at all, I noticed. They had such a pretty shape. Slanted upward, like ovals, and the color of the sweet chocolates my grandmother would sneak me back at home. I let go of her hands, and the girl beamed with delight and made a little noise before running to my parents.
It was evident how charmed they were with Anna. My mother leaned over and cupped her face with the same hands that had held mine only an hour before, complimenting the little girl on her beauty. Daddy tweaked her on the nose and grinned, and once again Anna giggled, giving both my father and mother a bright smile.

I couldn't remember meeting someone like her back at school in America. And those eyes, those eyes looked so pretty to me . . . they were different, like the sisters said, and I liked that.

We continued talking with them for a few more minutes, but the time came for the girl to leave and meet with the other children, who were outside for lunch, so we quickly said our good-byes. But just as we started for the door, Joel quickly spun on his heel, walked up to Anna, and slid the faith bracelet off his wrist and onto hers. Her eyes widened and she made another happy noise. He only smiled, and then led our family out the front door.

That's almost all I remember about that incident. But there was still something else, part of a conversation in the little auto-rickshaw on the way back. My brother had refused to say anything about his actions, regardless of how many times I asked him, and I recall the way my parents smiled at that. But what I myself smile at is what I thought when looking from Joel's bare wrist to the beautiful flowers along the road. My father and mother were happy sharing what they had with Anna and the other children. The sisters were happy taking care of the girls, and gave them all their time and support. And my brother was happy giving what meant so much to him to someone who meant a lot to him. So I answered the question I had asked earlier in my mind, and a new question formed in my head – one that would eventually remind me of that day and learn to look for the needs of other people, and not just myself.

Why would God keep the flowers He had to Himself, when He could give them to the people He loved and be so much happier?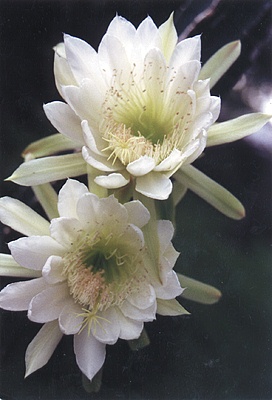 © Lindsay T., Vernon, TX