Sisters
MAG
May 6, 2015
Three breaths synchronize to the sound of crickets in the warm summer night. The air smells like summer to me, pine trees, redwoods, sunscreen, barbeque, and honey.
"Do you think the Millers' still own that house down the street?" I ask.
"Who are they?" Kaylin examines her tan lines from the day.
"How could you forget the Millers? Sean Miller? How can someone possibly forget the boy they were obsessed with for a whole summer?" Lyndsie says.
"I was not obsessed with him!"
"Yeah, you weren't after you found out he was two years younger than you K," I counter.
"Shut up!" Lyndsie laughs at Kaylin's embarrassment.

I have two older sisters, Kaylin and Lyndsie. Kaylin is twenty-seven and Lyndsie is twenty-four. I was born nine years after Lyndsie, and no I was not an accident. The three of us couldn't be any more different. Everywhere Kaylin goes she can find something fun to do, plus she is the kindest person I know. Lyndsie, although compassionate, always has a sarcastic comment ready. My sisters call me 'Tude-Butt' because they say I have a 'sassy attitude,' as if…
Apart we are three lost puzzle pieces, but together we form a beautiful picture.
We do not look identical; actually standing next to each other people wouldn't even think we are related. We don't fight for time in front of the mirror. We do finish each other's sentences. We don't gang up on each other. We do wear each other's clothes. We don't resent each other or tattle on each other to our parents. We do fight about the silliest things, but we also forgive each other in minutes.
When somebody asks me who my best friend is, I don't think of someone my age, or someone from school, I think of my sisters. They are my best friends, they will always be there for me. When something big happens in our lives, we tell each other first. My sister Lyndsie recently became engaged and before she even called our parents she called her two sisters. Kaylin received a huge promotion at her job and texted us while she was still in the meeting she found out in. I got a summer internship I wanted so badly and before I even told the friends I was with at the time, I texted my sisters.

Last summer, the three of us went up to our lake house by ourselves. Our house is in the quaint little town of Twain Harte nestled in the Sierra Nevada Mountains. The town with a little over two thousand residents is covered in pine trees and redwoods. The locals know us by name and have seen us as we have grown up over the years. We spent a weekend biking around town, cooking meals, tanning by the lake, playing horse-shoes in the pit our dad built us when we were younger, and making up for the time we had spent apart. After dinner we would lie on the roof of our house talking about everything under the moon.
"Do you think Mom and Dad will ever sell this place?" Lyndsie says while I try to count the numbers of freckles Kaylin's arm she through on top of my tan shoulders.
"No they would never do that. This is as much our childhood home as the one in Santa Cruz."
"The real question is what was the lady next to us wearing at the beach today?" Kaylin says.
"Kaylin! Harsh! I wouldn't know, I was wrapped up trying to eavesdrop in the couple behind us conversation," I mumbled the last part.
"Tyla, gain some boundaries," Lyndsie, the mother of all of us, exclaims in horror.
"Yeah, really Tude, get a grip on things… but what were they saying?"
"You guys are unbelievable."
"Oh shush Lynds you want to know too," I say.

But, time was doing what time does- it was changing us. Over the last two years our lives have changed dramatically. Kaylin lives in San Francisco with her boyfriend working at a very successful public relations firm. Lyndsie is in graduate school for medical research and is on the verge of getting engaged. I am starting to look at colleges, which all seem to be too far away for my sister's liking.
But lying there on the roof, we are all taken back to easier times when being apart was unimaginable. Being apart is still hard, but we are always connected in someway. Waking up that next day on the roof in between my other puzzle pieces I feel whole. I smile and pull my sleeping bag over my nose and watch the sunrise from the slightly slanted roof.
My sisters are part of me; they have shaped me into the person I am today. If I didn't have them I don't know what I would be like and I am glad I never will have to know. I am very grateful to be part of the set of three Slakey sisters and couldn't imagine my life any other way.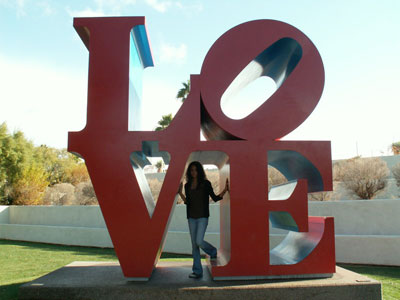 © Shannon E., Glendale, AZ