The Audition
MAG
March 28, 2015
Kids. Hundreds of kids my age were in the room, and all were playing their instruments as loudly as they could. My dad and I wandered, searching for space at a table. Toward the back, we found a spot beside cluttered instrument cases, jackets, and music sheets. My dad told me to take it; he would wait at the side of the room.
I said hello to the other students at the table. As I set up my clarinet, the girl next to me began to flawlessly practice scales on her flute. She was followed by a trumpet player performing his solo. Don't let them intimidate you, I thought. You've worked hard for this.
My clarinet was tuned, my reed was broken in, I had all my sheet music – I was ready for this audition. I practiced all eight of my scales and then reviewed my solo.
A few minutes later a girl sat down and buried her head in her hands. When she lifted her face, it was beet red and tears were streaming down her cheeks. I asked if she had just auditioned. She explained that there hadn't even been an announcement for auditions to begin yet. The girl was so nervous about performing she had had a panic attack. I wasn't sure how to comfort her, so I simply said not to worry and that I was sure she would do fine. Her fear made the butterflies in my stomach swirl even faster.
Then I saw a mother with a serious expression speaking sternly to her daughter. "You have to make it into this band," she said. "Your father and I did not spend all this money for you not to make it in All South Jersey."
Finally, at 9:30 a.m., the announcer called for the clarinetists to audition. I grabbed my clarinet and sheet music and headed to the hallway.
"Down the hall is clarinet sight reading," a guide instructed. "Your scales and solos are next to each other, on the left."
Scales, then solo, and sight reading last – that was the order I had wanted for my audition. I followed the guide's directions and went into the room for scales. A few clarinetists were already there. We whispered as we waited for our turns.
"How long have you been playing?" a boy asked us. Someone said since she was three.
"Is this your first year trying out?" I asked.
All of them had made it into All South Jersey Band the previous year. This psyched me out even more. Everyone seemed so experienced, and I was the rookie who had never had a band audition this intense.
Then I was next. The more time passed, the more nervous I became. I thought back to the advice my band conductor had given me during practice. "Relax, don't squeak, and pretend nobody is watching. But most of all, remember: before you begin to play, take a deep breath." Every time I practiced my scales with him, he always led with, "One, two, three, begin …."
A woman opened the door and motioned for me to enter. Three judges were sitting at a table with their backs to me. The woman told me to sit in a chair and flip one of the three cards on the music stand. I picked the card on the right. It read B flat, A, D, and chromatic. The woman then announced to the judges, "Number 14 playing scales B flat, A, and D."
Remembering what my band teacher said, I took a deep breath and relaxed. This was it. It was all or nothing. I could ace this audition and make it into the band, but if I messed up one note, all could be lost. Slowly, I lifted the clarinet to my mouth and breathed in.
I imagined my band teacher saying, "One, two, three, begin …."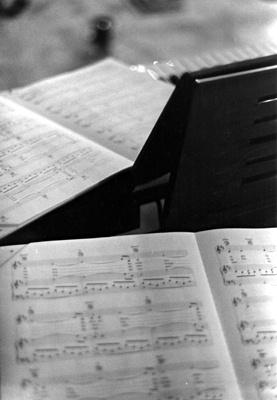 © Jessica M., Lansdale, PA