Not Just a Pretty Face
MAG
March 22, 2015
My eyes glimmer with the latest layer of eyeliner, and my cheeks are rosy pink. I smile at my reflection, perfecting my vibrant red lips. I slip into my sequined dress, fasten my high heels, and approach the line of girls, all anxious for their turn. The small staircase up to the stage nears as the number of girls before me decreases. A few minutes filled with nervousness pass quickly, and the time is finally mine. My feet strike the carpeted stage, and the spotlight shines brightly in my eyes. At last, my hard work and preparation begin to fulfill their purpose: a purpose that goes deeper than teased hair and a made-up face, beyond the crowns and sashes won, and is something I carry with me long after I exit the stage. This has shaped me into the young woman I am today, and it will be a part of me always.
Beauty Queen is a title that I've always considered to be embedded in my DNA. My mother and my aunts fashioned their lives around pageantry, and before I even took my first step, I became a victim of big bows and frilly diapers as a competitor in toddler pageants. I eventually made the transition from "diaper diva" and made my own decision to continue in the world of pageantry.
As I grew up, pageants grew with me. I participated in and watched beauty pageants every chance I could, and each time I found a small part of myself that I was unfamiliar with. Whether I was watching Miss Universe on TV or walking the stage myself, I felt hunger for knowledge, motivation to better myself, and determination to succeed in the hobby that I loved.
Whether it involves the decision about who deserves the crown, gluing on false eyelashes, or putting lipstick on a preschooler, pageantry is often the object of harsh comments and strong opinions. It draws controversy. Some see it as an activity that drives participants toward a single standard of beauty: perfect hair, a sparkling smile, bright eyes, and a skinny figure. Consequently, beauty pageants are often blamed for society's delusive portrayal of true beauty and rumored to cause detrimental impacts on young women's perceptions of self-worth.
While many are blinded by the teased hair, fake tans, and whitened smiles, they fail to see the positive impact the competition can have on young women. Pageantry is more than just a walk on the runway. It involves interviewing, fitness, evening gowns, and occasionally talent. Hard physical, mental, and emotional work and practice are essential for success.
As I continued my pageant career, my life became consumed with preparation. I practiced a routine every day: walking around my house in high heels, studying interview questions for hours, exercising day and night, following a healthy diet, and practicing piano. It was tough competition, and second place was something I feared. Crowns meant more to me than just a title. In my eyes, they were symbols of accomplishment, and I would do whatever was necessary to achieve them. I knew that anything was possible if I set my mind, body, and soul to it.
Wearing fancy dresses and walking the runway opens your eyes to what pageants actually involve. In the mind of a pageant girl, society's critiques of the hobby become mute as you realize there is much more to your presence on the stage than just a pretty face. At a very young age, I was introduced to discipline, patience, and self-confidence. I was given the opportunity to stand before an audience, and that instilled in me dignity and a sense of accomplishment. Through pageantry I have learned many lessons that will take me far past the runway. I have met many of my closest friends and made unforgettable memories.
It was because of beauty that I chose to live in the world of pageantry. However, I believe that I owe my success not to my appearance, but to my hard work and dedication. Beauty will only get you so far; intelligence, personality, and determination can take you anywhere.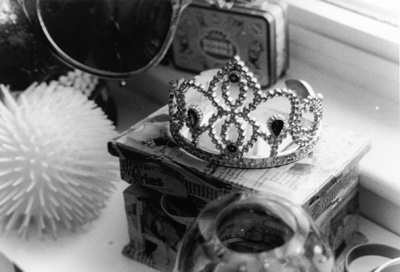 © Bayta R., Beverly, MA