Teddy Roosevelt's Mustache
MAG
December 8, 2014
I do not plan on becoming the president of the United States. I doubt I'll win the Nobel Peace Prize. I'd love to write a book or two, but I don't expect to write 18 of them. On the other hand, Theodore Roosevelt Jr. intended to study science in college but later went on to become the youngest president. He negotiated peace in the Russo-Japanese war, and earned the first American-won Nobel Peace Prize. He governed over a country while raising six children, and still found time to write his books. For all these reasons, and many more, Teddy Roosevelt is my idol.
My infatuation began in third grade. My sister bragged about sharing a birthday with Abraham Lincoln. He's been dead for, like, a billion years, I thought. It's not that exciting. I was actually extremely jealous. I wanted someone super cool to share my birthday too.
A quick online search resulted in … Kelly Osbourne. Who? Okay, look again. Captain James Hook. You mean I share a birthday with the silly pirate from Peter Pan? I thought for sure I wouldn't find someone better than Abraham Lincoln. But then I saw him. Big, round glasses and a big, bushy mustache. Ha! Abe only has a big hat! His name was Theodore Roosevelt Jr., and he was my ticket to one-upping my rotten sister.
After reading a bit more, a man I only planned on being my go-to fun fact quickly turned into a genuine hero. I mean, Teddy was shot, point blank, then gave an hour-and-a-half-long speech before seeking medical attention. If that doesn't scream cool, then I don't know what does. From that point on, my love of Teddy only grew.
Teddy and I have more than our birthday in common. On February 14th, 1884, Teddy lost his mother; a few hours later, his wife also died. One hundred and twenty-four years later, I had a similarly tragic experience.
My grandmother was sick for a long time, and one day she finally let go. My mother was a wreck. I remember sitting on the living room floor watching her pace in the kitchen. Then the phone rang. I assumed it was some relatives offering their condolences. Then I watched as my mother's trembling hand covered her mouth in shock.
I didn't understand. What could possibly cause my mother even more pain? She hung up the phone, and in a voice broken by devastation, she said the words I never expected to hear.
In an instant, all emotion left me. I felt like a computer in forced shutdown. Nothing mattered; my world ended. I didn't know how I could continue living. At 11 years old, I hadn't planned on losing my father.
Teddy became my support system. Maybe it was the mustache both Teddy and my father sported; maybe it was the compassionate heart I saw in both of them. Whatever it was, Teddy always reminded me of my dad.
I can imagine them, watching "Jeopardy" together, screaming out their answers. They'd chuckle with each other when one of them was wrong. I find comfort knowing my father and Teddy Roosevelt would have been the best of friends. In third grade, I didn't plan on my fun fact being the way I got through so much pain.
I do not plan on becoming the president, but things don't always go as planned.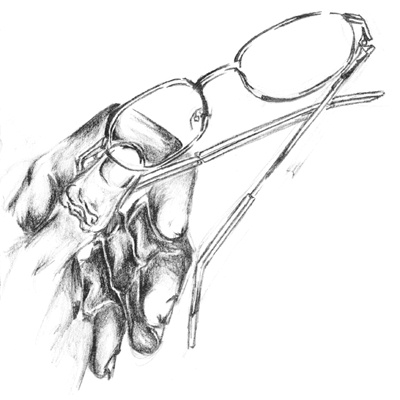 © Omar M., Philadelphia, PA