You'll Thank Me Later
MAG
August 28, 2014
"We are approaching Sofia. Prepare for landing."
Sofia, I pondered. What a beautiful name.
The runway smelled of roses and the soft, salty ocean breeze promised in travel magazines. The aroma, a refreshing combination of flower petals and perfumed soap, wafted through the small airport, an incipient symptom of perfection, as analyzed by my 12-year-old mind. All the components of a successful vacation were in place: golden beaches, blue skies, great food – all in a land overflowing with roses.
And my mother. I was finally going to see her after two months apart. At last, I thought, it will be just the two of us, together in the sun.
But, to my dismay, it would never be just the two of us again.
"Mamochka!" The guests in the hotel lobby waiting to check in stared at the chubby girl in white sweats rushing into her mother's arms.
"Katyënok!" she responded, using a pet name for me that also meant kitten.
I noticed right away that something was different about her, but I paid it no heed.
"I have a surprise for you," she exclaimed. "You're going to have a sibling!"
I let out a huff. "Ha. Very funny, Mum. Now what's the real surprise?"
"I'm serious! I'm having a baby. Do you want a little Dmitry or Daria?"
My smile dissipated into a blank stare, like the kind you see Hollywood FBI agents flash their targets before shooting them – concentrated and emotionless.
"A what?" Anything would have appealed to my ears more than "baby."
Baby. Those things are tolerable when they're someone else's that you can tickle and give back. Not mine.
And thus, my summer was ruined, my life destroyed. I would be forever deprived of the only person whose approval I needed to exist. Twelve years just wasn't enough.
Later that night, Mother approached me lying prostrate on the hotel bed and sat there until I turned to look her in the eye. "You'll thank me later," was all she said.
•••
Stepping into the hospital room, I saw my mother with various relatives around her. She smiled at me and gestured toward the crib. I reluctantly walked over, eyeing the tiny creature inside. It was wrapped tightly in layers of blankets, a little hobo cap atop its head. As I stared, perplexed at how it functioned, it wheezed a few times, startling me. I glanced at the name tag. Weight, length, last name, and mother's name were all filled in, but the first name had been left blank.
"What do you call it, Mama?" I called.
"Shhh!" was the unanimous response from all present. "Your sister is sleeping!"
So it began.
"Mum, what's its name?" I repeated in a loud whisper.
"You tell me," she replied with a small smile.
With one swift gesture, a nurse scooped up the infant and handed it over to me. I was not ready for this.
The creature opened its eyes, taking in my face for the first time. It looked up at me helplessly, pressing its lips together in search of food.
In retrospect, I should have fallen for her then and there, as that would have been the appropriate thing to do. But if there is one definitive trait of my personality, it is my unassailable stubbornness.
I thought back to Sofia, Bulgaria, where I'd received the upsetting news, and then my own name: Katherine, from Greek, meaning pure. By now, I'd admitted that the creature at least deserved to exist in my universe, and now it deserved a name. And it made sense to choose one that matched my own. Regal, Greek, and meaningful. Sofia. Wisdom. Variations ….
"Sonia," I whispered, pressing my lips to her fragile forehead.
"Don't kiss her face!" my family shouted.
Yup, I thought. Now and forever.
•••
"Kata!" the toddler chuckled.
"No. Shh. Go to bed, Monkey."
She squealed.
"Sonia!"
"Nyösia!" She still spoke backwards then.
"More like nuisance …."
"NUISANCE-A!"
"All right, enough," I declared, lifting her. "Good night, baby. Sleep!"
"Kata. I want sleep with sister."
"No, Monkey, I'm not sleeping in your crib again."
"Nyette! Katia's bed! I want sleep in Katia's bed!"
"Fine … but sleep means sleep. No tricks."
Telling my sister to lay off her schemes was like telling a frog to take throat lozenges; pointless.
"Katia … sing me song about sister."
I started humming her favorite Barney tune, and she placed her small fingers on my shoulder. "She's my sister. I love my sister."
By the eleventh reprise, Sonia was asleep, and I, too, felt myself drifting off. Before taking Sonia back to her room, the last thing I recall was my mother sitting on my bed, a smile on her lips as she watched her daughters together. Leaning over to scoop up my sleeping sister, she softly whispered two words into my ear:
"It's later."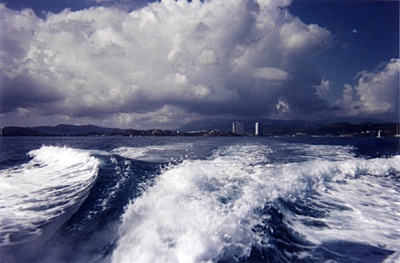 © Jenn T., Dover, NH