A Firefighter's Tools
May 5, 2014
His inner alarm clock awakens inside his head; he doesn't even need to look at the clock to what the time is. He gets out of bed and springs to life. After dressing and grabbing the paper he heads for the kitchen.

By now he has a pot of tea steaming and the paper spread out. He begins to read the paper, turning page after page with his fingers that have a story unknown to strangers. Some stories are flashbacks of my life others are the path he drove down in life.

His hands were memories that faded after each job was complete but they were soon brought back to life as little bundles of joy ran to be embraced in a hug. Previously his fingers guided his course as they pushed rubble out of the way but now all they push away are toys. They used to be masked in bulky gloves unable to show their true identity but now little fingers hold on to his, barely able to hold on completely. The strength caged inside his hands was remarkable but what was more miraculous was how tender he could be. Formerly his hands were ready and prepared to break away any obstacle standing in his way, now they break open the sleeping bags and assemble forts and tents.

Those days are over now as his hands have retired from their former career and lifestyle. Those recollections remain trapped in his hands as they have never completely faded way. Over the grueling years we call life his skin has come to be frail and delicate but these traits don't match his abilities. He can't as willingly get on the floor and play with us or build tents but we all compromise with a game of cards. The appearance of his hands show that arthritis has taken over but he won't let that get in the way of a mean game of Chinese checkers.

Just like any other firefighter every job requires holding memories in his palms, but my grandfather holds possibly the best memories made, me.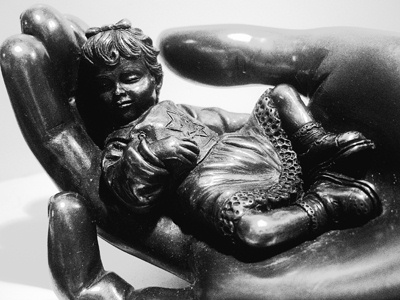 © Dat L., Worcester, MA