Drug's Iron Hold
May 2, 2014
I approach my dealer, yet again, for another hit. "What's up Rinny Rin?", I ask rubbing my eyes with the backs of my hands, my shaky voice unmasking my long day full of homework, school, and sports, clubs and most of all stress. She does not look up when I enter the room and as she finally lifts her head throws a slight glance my way and then looks away again, quickly and quietly she hands me drugs, too busy to care about a regular customer. The drugs control my every movement and thought, like a ventriloquist controlling his puppet's word. I steal a glance at the rest of the drugs in the bin; what could those drugs do to me? I repetitively count and recount the pills in my hand, ensuring my dealer didn't cheat me out of a calm, quiet night of sleep, a way to battle the monsters of the next day. I reach my dorm room and close myself into the night, dark as Hades' heart, calm as the light breeze at the lake. Here my heart race slows, my brain shuts down, and a smile creeps its way up my cheek. The pills fill my head with sleep and I sleep with no worry of the morning or what the night might bring to me.

The drugs console my deepest fears of loss of control over my body and the world around me. However, drugs shed me of my control, I lean to trust an object with no promise that it always works. I put my entire self into my drugs, and at the end of the day am left with nothing but the darkness it produces. I change my schedule to fit with needs, cancel plans, avoid certain parties. Every new place I travel to the drugs follow me there, ensuring to protect me even if I do not wish to be protected. The drugs take over my ability to stay awake in class during the day and the ability to listen to rainstorms at night. I love to hear rainstorms, the slight pitter patter on the roof like small children running on wood floors. The world needs to cleanse itself.

I use because of my imperfections, the slight twitch in my hands that travel all the way up my arms, the hallucinations of the man and woman dancing elegantly across the floor, more elegant than my twitch will ever allow. The first time I realize the importance of the drugs my brother grasps my hands tightly trying to tug me back into reality but all I can see is the basketball rolling away from my hands. Then it strikes, screams pour out of my mouth like water pouring from a pitcher. One, two, three seconds pass and the window shattering screams continue. The darkness hits me like a truck hitting a wall. My eyes open and shut, people speak to me but their words sound like buzzing bees as the colors of their clothes swirl around me: apple reds and midnight blues. A foreign object sits in my hand, a woman sits across from me, she seems familiar. She places my hand to my mouth and I take the drugs. The drugs stick to my throat as I swallow them the first time, not anticipating my future twice daily habit. That day I let my body shake freely, I allow the dancers to dance for minutes, I watch the colors swirl around me and I awake from my foggy haze and realize that minutes destroy the smiles in my house. My mother looks as if she has seen a murder and my brother looks as if he has killed a puppy, the two blaming themselves, but I know deep down that I am the cause of this disaster. I lose control of my body and I cause disorder in the house. I vow to continue take the drugs to keep order in the house and in my life. I lose control without the drugs but I lose control of my ability to have late night sleepovers with my friends and my ability to succeed in school with the drugs.

I am willing to give all of that up for my family. The first day on the drugs I felt my ability to stay up late leave but I also saw the smile return to my mothers face as she tucks me into bed. My mother's smile brings a quiet tune to my mind, and I know that losing my ability to listen to night rainstorms or receive amazing grades is worth my mothers slight smile. My habit of taking drugs and losing control is worth my mother's and my family's happiness, so I continue to take the drugs. My family and friends only want the shaking to stop, the shaking causes my mother to not sleep at night, my brothers to stay up late and listen for my quiet breathing. They do not know the triggers for my shaking but they do understand that it may strike at any point. I take my drugs to control my shaking hands but also to give my mother and brothers a restful night, I allow them to have some control.

***
"The trip of a lifetime" my mom says to me as she drops me off at Molly's smiling and hugging me. I nod but the thought of my drugs failing nag at the back of my head, images of my twitching hands and the graceful dancers spin round and round in my head. Will my drugs work? An image of a flight attendant holding my hand as I shake crosses my mind, her hands are cold on my heart as she tries to reassure me. This made up image brings a cold sweat to my neck. I'm determined to travel the world, so I grab my bags and push the questions out of the way. I board the plane. I check my bag one last time, looking in I see "Trileptal, 350 mg in morning and 350 mg at night". I zip my bag and think: "the trip of a lifetime, no matter what". And the trip was amazing all of the oranges and reds of the Great Barrier reef, the late night card games, the green hills of New Zealand, ice cream runs, and laughter. My best friends ask me if I am on schedule with my drugs, they say lets go to bed early even though they want to stay up a few more hours, they laugh as I announce to the entire group that I have taken my drugs, they support me. The trip was as amazing as I dreamt even with my drugs. On the trip I find control: no worries, the drugs control epilepsy not me. Seizures only define part of me, not all of me. So, drugs are only a part of me. I have control of my life. Drugs give me this gift.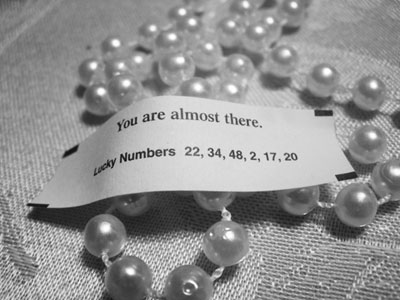 © Elizabeth E., Elmhurst , NY