A Potter Obsession
MAG
April 27, 2014
I had never even heard of my soon-to-be favorite hero until first grade, when my recess buddy, Joshua, told me he was almost done reading the second book. Because Joshua and I bonded over pretending that we were dragons and fairies, he was astonished that I had never heard of The Boy Who Lived. He told me that we were in a fight until I started reading the series, and he was dead serious. So I asked for the four-book box set for Christmas.
From the moment my eyes drank in the opening line of The Sorcerer's Stone ("Mr. and Mrs. Dursley of Number Four, Privet Drive, were pleased to say that they were perfectly normal, thank you very much.") I was hooked. I prided myself on finishing the "big chapter book" in two weeks. The rest is history.
After those sunny spring days on the playground 11 years ago, Joshua and I lost touch. But I became infatuated with reading anything I could get my hands on, and I've read the entire Harry Potter series 10 times. Throughout my elementary and early middle school years, my mom was convinced that my obsession was unhealthy, but I brushed her off. Just because I spent hours in the basement with an embarrassingly large collection of Harry Potter Legos, dressed up as Hermione for two Halloweens, and spent my little time outside searching for the perfect stick to use as a wand did not mean that I was abnormal, did it? My mom eventually gave up.
But people who failed to see past the awkward, stick-waving maniac didn't know that Harry inspired me to write. I had always been a voracious reader, but something was triggered when I started reading the Harry Potter series. I wanted to meet Jo Rowling, live with her, even be her. I dressed up as her for my third-grade biography project. I began to write almost as much as I read, trying things over and over in an effort to craft a hero as perfect and inspiring as Harry.
As I grew older, my hours with the Hogwarts-themed Legos ebbed, but my love for everything Potter did not. I reread the books, laughing at moments I had forgotten about, connecting plot points that I hadn't before, and unabashedly sobbing every time a character died, even though I knew their departing lines by heart. For me, Harry had come to represent so much more than just fantasy worlds and imagination; he was my escape.
Around the time I read The Order of the Phoenix, I was battling my first bout of depression. I found solace in Jo's intuitive words; I felt that I could relate to the now-15-year-old boy fighting his inner demons. Although his were slightly more extreme (trust me, I've never been possessed), we learned to combat them together, side by side, on Firebolts flying high over the Scottish Highlands.
For my sixteenth birthday, I wanted what every teen girl wants – to go to the Harry Potter theme park at Universal Orlando. It was the most fun I'd had in a very long time. I blocked out the judging glances from vacationers as I reveled in drinking a Butterbeer, buying Hogwarts robes and a wand, and loudly blabbering ridiculous facts about the series to my mom and sister while we waited in the three-hour line to ride the interactive roller coaster.
Throughout my life, Harry Potter has come to epitomize all that I believe: that loyalty, pride, wit, and bravery are of equal value; that our choices make a far bigger impact on our lives than our abilities do; and that death is just the next great adventure. I may never go to Hogwarts, but I can work some literary magic of my own. I want to be the writer who leaves readers speechless, just as Jo did to me with the last line of The Deathly Hallows: "All was well."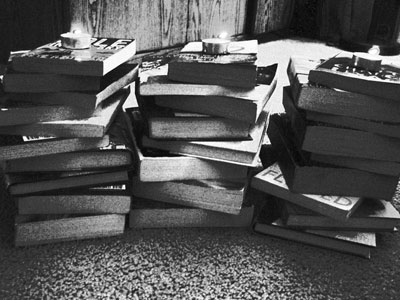 © Alexis R., Clarkdale, AZ