It Still Smells Like the Lake
April 21, 2014
"Pick one," my mother told me one August afternoon when I was six. "You're coming here next summer." We were visiting the Concordia Language Villages in northern Minnesota, a set of summer camps where children and teens sojourn annually to set aside their technology, American music, and even real names in favor of pretending to live in a foreign country. The Villages are a place of linguistic and cultural immersion, but anyone can tell that from a visit to their website; it takes weeks plucked from young summers to discover that the Villages are a place of magic, too.

Somewhere between the campy Swedish ditties and the sunset-bathed campfires by the lake, the homesickness of my first time at a sleep-away camp disappeared, replaced by a sense of belonging. I was eager to return for a second summer, then a fifth, and eventually a tenth. Every year, the counselors dressed up in ridiculous costumes and introduced all of the food for each meal by performing skits in which the day's dishes could be characters, pieces of luggage, articles of clothing, or even yoga poses. Evening programs sometimes simulated world issues such as hunger, discrimination, resource distribution, or immigration. Other times, we pretended we were on a game show or in a life-sized board game. Time was divided between our "serious topics"—language learning and grappling with what it is to be a global citizen—and leisure activities such as foursquare, a form of Viking lawn bowling called kubb, and sailing. The songs at our sing-alongs and dances were always the same, we ate pea soup and pancakes every Thursday without fail, and perhaps it was the constancy that let us all grow up there, safe in a schedule that rarely changed and always preserved the essentials of what it was to be at the Village.

Sjölunden, the Swedish Language Village that I attended, has the highest returning rate of any of the Villages. This was ultimately a blessing, though it took me years to see that. Living with the same girls every summer forced me to learn to get along with people very different from myself, a task I was largely spared in the big schools I attended at home. In the end, I came to not only get along with my cabin mates but also value their friendship. "A gymnast and a mathlete walk onto a soccer field" should be the beginning of some kind of joke, but it was the reality of my life at the Village—a reality in which we came to know and like each other while pushing the boundaries of who we were ourselves.

The biggest gift the Village gave me—bigger than proficiency in the language of my ancestors, even—was the gift of space to know myself. When I took another name, as everyone does when entering the Village, I was able to set aside my ideas about who I was and who people expected me to be. At home, I mostly avoided dances and sat on the floor in the back when I had to attend; at the Village, I attended every dance I could and danced until I was too hot or tired to continue. In what I call the "real world," I had last attempted to play a sport at the age of eight; at the Village, I was a proud member of the soccer team that once won the World Cup by defeating teams from the Korean Village and two of the Spanish Villages. Gradually, as I learned to be "Helena," I discovered abilities and limitations in the realms outside of my tiny comfort zone. Freedom, for me, came the moment when I realized that those possibilities extend to the times when I go by "Linnea" as well. This freedom is still with me, and it still smells like the lake.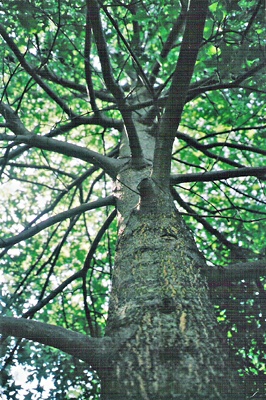 © Bhuvaneswari R., Sleepy Hollow, NY