The Thing About Jenny Mercier
MAG
April 21, 2014
I woke up unaware of my surroundings. My eyelids drifted apart slowly like tectonic plates dancing under the ground, Pangaea coming together again with every blink. The spinning fan was so close to my face I nearly threw myself off the top bunk. I looked around at the unfamiliar faces sleeping around me.
I had missed my flight the day before, so I had arrived late to camp. That's why I ended up in the top bunk, the one my roommates had decided they didn't want. I glanced at the table between the beds. They had also decided to use my copy of Rayuela as a coaster. The thermos on top of my book had "Jenny" etched into it.
I quietly lifted it off my book and wiped it dry. I positioned my glasses on the bridge of my nose and began reading to distract myself until the other girls woke up. The one on the top bunk began shifting positions, her long black hair cascading down the side. I became anxious about what I should say when she woke up. But she didn't.
My fingers tapped against the page I had read seven times already; I kept getting distracted by things that lay sprinkled around the room. Duffel bags, shorts, books, shoes, ear phones, chargers, notepads, coloring pens, and tampons. My stuff, on the other side, was all cramped in the corner, suitcases and plastic bags stacked on top of each other because I was afraid the mess would swallow my belongings and shuffle my carefully organized possessions.
I slithered off the bed and tiptoed to the bathroom to brush my teeth. I didn't want to meet anyone with fetid morning breath. That's when she walked in rubbing her droopy eyes, a rubber band holding her puffy hair – or maybe her – together. I remember how she said, "Hey, I'm Jenny," and I connected her to the thermos on my book. She then proceeded to take off her pants and panties right before my eyes, leaving everything on display as she peed. I stiffened, trying to decide whether it was time for me to exit the bathroom. She must have noticed.
"It's fine, really. I don't care. That's just how I am. You'll get used to it."
I forced a smile, still baffled.
"Do you wanna do something? I'm not tired enough to go back to sleep. Are you the girl who got here late?"
"Yes, I'm Gaby. I'm not tired either," I replied, my tongue not rolling as swiftly as I expected it to.
"Here, get the tape. Let's make a tree or something."
Even though I was not completely sure this wasn't considered vandalism, one of the few rules I had read in my "Camp Handbook," I felt compelled to do it. We taped the wall with tree branches stretching up to the ceiling. I did the branches on the right, and she did the ones on the left.
"Your branches are nice. Mine look like s**t." She laughed, making me confused as to whether I should laugh. I threw in a little chuckle and told her hers were nice too.
Then I made a technical drawing of her. I placed her flat on blueprint paper, carefully learning where her limbs met, as well as her insides. I spent hours outlining her contour with trembling hands not used to having such a struggle trying to figure someone out.
That first day, Jenny told me she was adopted and how she had six siblings who weren't. The third day I woke up to her thong inside my boot and orange peels scattered around them. The fifth day, we idled, each in our bunk beds, while she talked about her ex-boyfriend and how she spent Easter at his house. She told us about his family's chickens and how she named one Rosetta. She didn't realize they would be having Rosetta for ­dinner.
She had other camp friends, and I had made some too, so the only time we interacted was when we were in our rooms. We were two barely overlapping circles who met once before splitting again.
Jenny left her orange peels on the floor, and I picked them up. Jenny left her clothes where they fell, and I kicked them into the corner where they piled up. In the mornings, I would find her toothbrush covered in the grapefruit acne wash she applied every night, along with hundreds of other skin and hair products. We carried on a parasitic relationship where I became an extension of her body.
All fifty students had a basketball tournament near the end of camp. Jenny's team and mine ended up in the finals, playing against each other. After an hour and a half of dribbles, crossovers, passes, and baskets, the game was over. Everyone returned to their dorms until midnight, when the counselors would bring baby carrots and organic dip for us to eat.
As I headed to the bathroom, Jenny leaned against the door, panting melodramatically.
"I'm so tired, dude."
"Yeah. Me too," I replied simply, looking at her through the mirror. I tried to ignore how she always made a big deal out of everything.
"It's like I'm gonna faint or something. I'm so tired." She slid down the wall and sank to the floor. Then she fell sideways with a quiet thump. Her eyes closed and her skin became white like the tiles. My bones shook for a second before I realized I had to do something.
"Laura, call a counselor! Jenny fainted!"
Meanwhile, I laid her down and filled her bottle with water. JP got there first. She dialed 911 without hesitating and explained what was happening. Jenny's eyes began fluttering like butterfly wings. While everyone else was sent to their rooms, I was trapped inside the bathroom as JP deftly followed the instructions the woman on the phone gave her. JP held Jenny by her shoulders and shook her gently.
"Hey, Jenny? Are you there? Can you tell me something?"
"We lost."
"I know. Jenny, the ambulance is coming."
She nodded slightly. Then we heard the sirens. That's when she began screaming. Her lungs jumped up into her esophagus, choking her before falling back into place. Her screams engulfed the room, barely leaving me any oxygen. JP told me to go to my room. Laura, my other roommate, looked at me anxiously.
"She's just scared," I assured her.
"I thought she was just being theatrical as usual. Now I feel guilty."
"It's okay. I thought so too."
We listened as the paramedics trundled in noisily and took her away.
I was the only one who heard her return at 2 a.m.
"Hey, are you feeling better?"
"Yeah." She laughed her laugh and went to bed.

•
•
•
Two days before the end of camp we were resting in our beds after lights out. Elisa, Jenny, and I were having a long conversation about school and boys and whatever came to mind. After a while, it was just Elisa and Jenny talking, since I'm shy and quiet and they aren't.
"Yeah. I got roofied," Jenny said softly. "I mean, like, they didn't actually rape me. They tried to tie me to a chair. That's why I started screaming when the paramedics came. I felt like it was happening again, ya know? Waking up to strange people, on the floor."
My muscles swelled up like yeast, and blood could barely flow through my tightly wrapped veins, pushing against my skin. But I didn't make a sound and pretended to be asleep.
"Oh," Elisa responded. "Now I feel bad for you. Here, come get in my bed." She was known to not be very fond of Jenny because she hated the attention Jenny demanded, like I did.
The thing about Jenny is that she laughs when she's serious but also when she's not. Jenny means half of what she says, and the other half are lies wrapped in neat paper. The thing about Jenny is that she is chaotic. And even though we were not actually friends, my fingers twitched with the need to put all of her back into place. I was a child, flipping one of those shape sorting boxes, all the sides containing circles, triangles, and squares. But Jenny was no polygon.
The thing about me is that I still pretended to be asleep. When Elisa asked if I had heard anything, I said no. I didn't know how to use my hands to bend Jenny's distorted figure into a person. I didn't know how to gather her together this time. So I just folded Jenny over and over and hid her under my mattress like dirty magazines or cigarettes.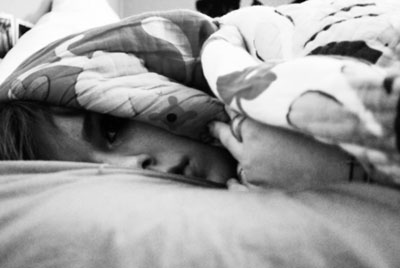 © Erin H., Carrollton, TX