Principe de Vergara
MAG
January 3, 2014
I never realized the freedom of metro travel until I visited Madrid, Spain. One station, Principe de Vergara, proved most memorable. Every time I walked through it, I saw the same man. He was old and well-dressed in a button-down plaid shirt and belted khakis. He always played a violin and smiled in a way that made his face a mess of wrinkles and brought his chin to his nose. It made him look like a happy crabapple and invited smiles in return.
After some initial shyness, I finally developed a routine. Approaching the station, I took out ten euros, ready to veer from my straight path in order to drop the change in the violinist's case. He inclined his head to acknowledge my donation as the music played on, and smiled – always smiled. I'm certain he came to recognize me as the girl with her purse slung crossways to discourage pickpockets, perpetually wearing Birkenstocks and rushing in one direction to see the city or in the other direction to make it home in time for dinner.
One time he thanked me for my donation. "Gracias, cariño," he said. Thank you, sweetheart. I was startled and only nodded, but as I turned away, a smile split my face. His words were better than a first kiss. Regardless of the language barrier and the fact that I didn't even know his name, I had made a connection with him. We knew each other; we were friends.
As my time there drew to an end, I thought about how to say good-bye. I settled on a thank-you card made of red construction paper with a message in Spanish introducing myself, thanking him for his music, and wishing him luck. I decided against writing my address. Our friendship was like a work of art – once painted, it should not be added to.
On my second to last day in Madrid, I took the card with me to Principe de Vergara. But when I arrived, the man wasn't there. The security guard said the smiling violinist had packed up early. I wouldn't see him again. I wouldn't be able to deliver the card in person. My only option was to entrust it to the guard, who promised to give it to the man the next day.
I hope the security guard kept his promise, and I hope I was memorable enough for the violinist to figure out that the card was from me.
My time in Spain taught me how to be independent, how to ride the metro, and how to strike up friendships with strangers. I will always remember the smiling violinist. If you ever find yourself in Madrid, please stop at the Principe de Vergara station and give him my best wishes.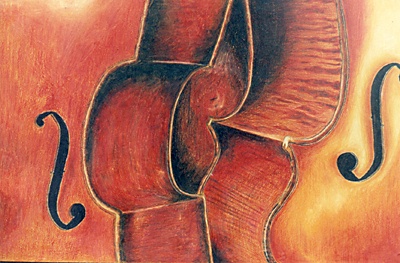 © George N., Houston, TX