Pedal After Pedal
MAG
October 27, 2013
"It's like riding a bike; once you learn how, you'll never forget." That adage was coined for a very important reason. After all, as the saying suggests, there are plenty of things which, once learned, stay with us until our dying breath. Biking, however, is unique because it is a rather elegant metaphor for human life. First we don't know how to ride. Then, as we learn, we constantly fall. After a lot of falls, we truly learn how to ride, and our falls become less and less frequent. We whiz on for a finite "eternity," seeing and doing unimaginably amazing things along the way. Finally, our legs grow weary and we stop pedaling forever.

When people don't know how to ride a bike, it seems like a genuine impossibility. For these unlucky masses, falls are the only certainty. But then, one day, something clicks and we learn that biking is the most natural thing in the world. It's foot after foot, pedal after pedal. As our falls decrease, our confidence grows. Once we truly begin to ride for miles, our breath becomes heavy and our throats become raw, but no matter how drained we get, it is always more natural to keep on going than it is to stop. As Newton famously observed, objects in motion tend to stay in motion. So it is with us bicyclists, and indeed, with all humans. The trouble is getting started in the first place. For that, we need a little push.

My father taught me how to ride. Like most children, I started with training wheels, but my dad, a veritable yet sadistic scholar in the field of teaching bike riding, decided to remove them before I got used to them. One hot day during my sixth summer, my father and I rode a short distance to a tiny playground. On the way there, my knocky knees were supported by training wheels. On the way back, I wouldn't be so lucky.

In the back of the playground was a basketball court. Some vandals had stolen one of the hoops. "Good," Dad said. "No one will interrupt us to play." Sure enough, the whole park, basketball court and all, remained eerily empty that fine summer day.

My father lay my bright red bicycle on the cracked asphalt and went to work removing the training wheels. I watched, aghast, as he popped them off, then lifted the little gearless bike with one hand and said, "Ride."

I rode for what felt like hours but was probably 45 minutes. At first I hesitantly went in small circles around the court, but as I realized I wasn't going to fall I grew bolder and began to do quick turns and race imaginary rivals. Occasionally I stopped to receive advice from my father or drink from my plastic bottle, but mostly I just rode, not falling even once. My dad, smiling, said, "Five more minutes." I grinned back, looked toward the beautiful sun in the summer sky, and crashed flat onto the pavement, skinning both my knees.

I was prone to panic and tears as a child, but oddly, the pain and disappointment of having fallen right before leaving didn't upset me. My dad helped me up, and after he determined that I would survive my scraped kneecaps, I pedaled for another minute just to prove to myself that I could. I knew that my first fall wouldn't be my last, and that it wouldn't be my worst, but I had survived it nonetheless, and I felt a quiet pride. Even after we had ridden the short way home and my bike was safely tucked away in the garage, I had the sensation that I was still pedaling, and that I would never stop.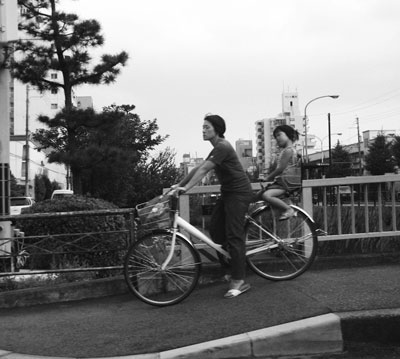 © Elizabeth C., Andover, MA