Missing
October 3, 2013
I remember back when I was just a little boy. I was on the eastside, my cousin and I saw a blue nosed pit-bull walking down the street. She looked hungry, so we fed her some hotdogs. As we left off the block and went around the block, the dog was following us. We liked the dog and knew she didn't have a home. We let it stay with us.
It was getting dark; we put it in the backyard. I brought some dog food for her because she was hungry. As I got closer to the house I saw my aunt pulling up. I didn't say anything about the dog because I knew she was going to kill us. I said, "Hey!" and ran in the house before her. My cousin told me he put the dog in the backyard next door because nobody lives there. Around 3:00 am I ran out there and gave the dog the food and some water.
The next day my aunt went to work. Then around 1:00 that afternoon I and the dog went for a little walk around the hood. As we walked, I heard another dog in this backyard. The gate was open. I ran pass the gate, it opened and the dog went in and started a fight with the other dog. As I yelled at her to come here, she ran out with blood on her face. We went back to the house. Then my oldest cousin asked me what happened to the dog. I explained to him what happened in the yard. He told me that we had to take her somewhere before she gets hurt worse.
So we started walking towards this park. My cousin had locked her in the gate. I felt bad and I ran back without him knowing and let her out. She didn't follow me, so I thought everything was going to work out. I ran and caught up with my cousin and we walked back to the house. Later on that night, they woke me up by yelling "The dog got out!" I told him that I let her out. My aunt and cousin said the dog couldn't stay here because it might hurt somebody. It was still wearing the dog tag.
I and the dog walked around for a while. We walked the same way, where the dog attacked the other day. I forgot about him and she ran in there again to fight with the dog. So I hopped this big gate then ran across this big street to get away from the dog. As I walked back to the house, I saw her but she didn't run to me. I went home. I never saw the dog again. I learned you can't keep something that doesn't belong to you, especially if you find it on the street.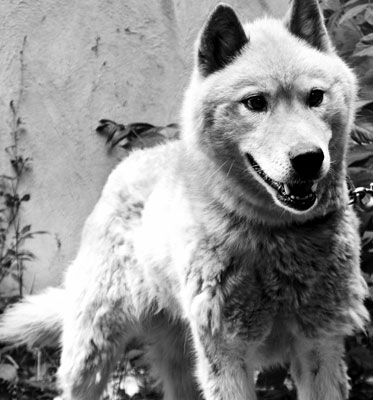 © Mike A., Newark, DE