The Road
September 11, 2013
She had just started off on the borrowed bike for the seventh day this summer. This time I knew we would see each other a lot from this perspective, from the bike and not the car. She was determined this time; I could hear her making the habit in her mind that she would ride the yellow bike every day. It was almost to the end of the morning and the sun was beating down my paved back and she rolled down my shoulder and took a right turn. It was her routine now, her everyday agenda to ride the shiny cruiser as I lead her around the lake, past houses she knew so well. She had a new cloud of thoughts every day, and I read them one at a time as she pondered each carefully. Though it was a lazy summer, her head was full of different things. Sometimes she would speak what she thought, to no one in particular, but I listened and guided her around the lake.

She wheeled on, under trees and around pot holes and the sun warmed us both. Her curly blonde bun bobbed atop her sweaty head, acting as a bump detector as she swerved left over a bend in my elbow, catching a breeze and a pot hole as she swished down a hill. I ran ahead of her, to the end of the lake drive and we took a right together, going toward town. She was still fervently thinking about a picture that she wanted to paint; she had been thinking about this picture for the past three rides, and every time the thought reoccurred to her, it was crisper, with finer details and brighter colors. What I saw through her eyes was the perspective of looking through glasses being held within six inches of the viewer's face. The scene past the glasses was a broken world, full of evil, sin and death. But through the glasses, there was a beautiful city of light, pure and majestic; sitting on a hill higher than any I had been laid across. The streets were what caught my attention, shiny and made of the brightest gold. I longed to resemble those roads. Her thoughts were interrupted when a vehicle on my east shoulder blared its horn at her and she ducked out of its way. I directed her route off my pavement and onto her new favorite piece of our ride together … my "sinful street".

This was my most embarrassing lane for it had not been paved, but I was instead left as naked vertebra; a layer of dirt and rock, crammed between sun drenched corn fields and only noticed by the locals who sped through as a short cut. But she appreciated my hidden drag not for my purpose of getting cars to a destination faster, but to have no destination besides away. That was one of the main purposes for the rides on that yellow bike; to just get away and think. She was focused on a hill, breathing hard and shifting gears so the two wheels would ride as smoothly as possible on my rugged spine. The trash that lined my frame was something she memorized; the flattened cardboard boxes, the broken bottles, the dusty signs on the right, the fast food cups and trash bags on the left. This was where she got to know me, seeing how I was treated. The garbage that people carelessly tossed at my berms was visibly suffocating, yet nobody tended to me and I baked in the sun and collected sloppiness. But she didn't care, she appreciated my purpose, dirty or not, and she rode on.
Because there was no population on either side of my lonely lane besides the corn and the birds, she started to sing to herself. Through huffing and puffing over my rocky terrain, she squeezed out praises, celebrating and chanting Build Your Kingdom and Movements by a group I hadn't heard from any secular car radio. She peddled faithfully around a four way stop, back onto pavement and crested a hill, cruising and belting out the lyrics of Mirrors, a tune I had heard too many times from the speakers of the average teenager's vehicle.
After a solid five minutes of singing and sound effects from this sleeveless-shirted girl, she started to slow, circling around and bobbing her head up and down. I was thoroughly bored with this awkward act and threw her down a hill, zipping her through a stop sign. She liked speed and picked her feet up off the pedals, sticking them on the middle bar of the yellow bike. Head tucked between her shoulders, she leaned forward, nose in the wind and she coasted on my finest shoulder. As she reached the climax of her speed, she lurched up, throwing her head back, face pointed toward the sky, soaking in the sun, eyes closed. She whooped and yodeled and cheered and hollered and sang, her thoughts and actions were all one, like a synchronized dance without moving anything but her lips, which carried her symphonically all the way home.

All good things come to an end, and after nearly five miles, she had virtually finished her spree along my back, coasting, peddling, and tanning all at the same time. On the last downhill, she pulled her signature move; gliding next to a stop sign and shooting her expired chewing gum from her mouth and onto its surface. This was the third time in a row she had hit her target whilst speeding along, she gave a snarky grin, whooping once more.

After advancing over the last hill, she swerved into the garage with a triumphant dismount. Fiddling in front of the lawn boy, she danced across my yellow lines, up her front steps and into her house on my west side. And that's how I know the blonde girl with the green shoes. She rides the borrowed yellow bike on my backbone every summer day, singing and smiling every pedal of the way.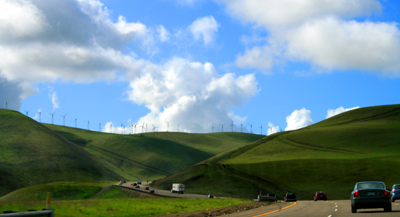 © Kat C., Racine, WI