In Other Worlds
August 22, 2013
In another world I said the right things and was invited on that trip instead of her so you started to like me instead of her. It was us sitting in the blue booth at that China Buffet, fumbling with our chopsticks and laughing nervously. We were the ones swaying to crappy slow songs in the middle of everybody. I rolled my eyes when you did something gross and you kissed me and I ate dinner with your parents. We laughed at everything and remembered things that no one will ever know. You started to get annoyed with my quietness and I resented your immaturity. It ended like I always knew it would.

In another world I turned around and walked the long hallway back to you. You changed your answer, admitted to the nervous lie, looked at me and you didn't break my goddamned heart. We held hands and you were never the one to let go first. Your older sister dropped us off at the movies and when I kissed you, you smiled and I loved your smile. It's such a good smile. But you didn't care about anything and had small dreams and I wanted everything and hated that you didn't. It was messy and made it hard to look at you.

In another world I wasn't so afraid and said what I was thinking out loud. You realized I wasn't as plain as you thought and asked me, not her, in your genuine-but-still-ironic way. I said let's ditch the dance and lay in a field somewhere and stare just stare up. We did and you kissed me with that look in your eye that's so rare, that you only get when you take pictures or are out on your boat. The sweetness faded and you got mean again. I hated you for being so mean. We fought and I yelled at you like I've never yelled at anyone. You called me stupid and I cried for a week.

Maybe everything was suppose to exist only here, on this page, below the surface of my uninhabited heart, meant to stay possibilities never shattered by the truth. The downside is that this way I'll never know what their faces feel like, how they look when they're tired and lying on the couch, what there favorite meals are. And that no one, none of them and no one else, has touched me like I'm everything.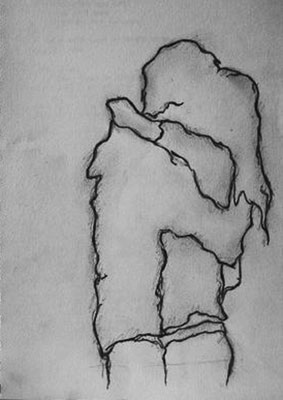 © Nicole B., Newcastle, WA