Linger
June 25, 2013
Ruby red, baby pink, flame orange, chrysanthemum yellow, blood red crimson, all spreading over the velvety, royal blue night like red wine on a tablecloth. Under it all are rolling hills, a small lake, and about fifty girl scouts singing on the beach. The dancing flames of the campfire light their faces as they try to hold back tears, and not think about the goodbyes that would come tomorrow.
… I wanna linger… a little longer…a little longer here with you.

We all sat, singing, surrounded by our friends, the girls who had become our temporary family. It was my third year at Rock Hill Camp, and I wanted to stay there, in a summery stupor, in limbo. If I was to remain in that moment between day and night for the rest of my life, I would be fully satisfied. Here was the place where we could forget that we were all leaving tomorrow, maybe never to see each other again.

No one likes to leave, especially not where some part of her heart calls home. It was camp that introduced me to the challenges that I will face in life. A sense of apprehension always mars the start of camp as I wonder how I will make it to the end. To learn to survive without the constant guidance of a parent, and to rely on my friends and myself instead was a terrifying prospect. How could I remember all my responsibilities; how could I trust others with things that would affect me?

This fear turned out to be unfounded. Because of how difficult the work was, we learnt to do our fair share. When the latrines got dirty, we didn't gripe about cleaning them, as we might have at home. Instead, we realized that we had used them so they were our responsibility. When Sam, the self-proclaimed "Messiest girl in the world" cleaned up our tent, we were only moderately surprised. Knowing that no one was there to pick up our mess made us realize that if we didn't do it, it wouldn't be done.

At meals, we would all take turns collecting food, tending the fire, cooking and cleaning. In the washhouse, we all showered as quickly as possible, preserving the luxury of hot water for our friends. The simple challenges we faced served to make us not selfish but selfless. We created our own little utopia; "perfection" didn't mean everything worked instantly, but instead meant that we would all work together to fix what didn't work, and share in the profit.

In this world by the dying heat of summer's last campfire, we were the closest to heaven anyone could get on earth, and not a single one of us wanted to leave.
… It's such a perfect night… it doesn't seem quite right… that it should be my last with you.
The night really was perfect. We slowly made our way back to our tents, giggling, sobbing, hugging and, in the case of our group, begging. There were no clouds and the moon was full. There could have been no better opportunity. Our voices all rose in a unanimous plea of "please, it's the LAST NIGHT!" The counsellors soon relented, just as we knew they would. After all, it isn't like we were the first group of girls to sleep outside on the last night. They did it too, when they were campers.

We wouldn't be the last either. For as long as Girl Scouts insist on striking out every summer with two weeks worth of clean clothes, bug spray, and lust for adventure, there will be girls who will go to any means to delay the inevitable end of their experience, and to glean giddy enjoyment from every last second of it.

At the beginning of camp, I cried for my parents, my home, the comforts and commodities that were nonexistent in the woods. Now I cried again, not for where I was going to return to, but for what I was to leave behind.

I was leaving the mist that blurred the sunrise into a watercolour over the lake when it was too early for even the birds. I was leaving rich, woody campfire smoke, and the heat of the flames causing a sheen of sweat over my tawny skin. I was leaving the delicate touch of sun on and back my shoulders as I stood over the chilled lake. Leaving the tug and pull of a harness as I scaled trees and ropes, eighty feet above solid ground. Screaming "We Didn't Start the Fire" very loud, fast and off-key with Katie and Po, the three of us taking pride in summer's greatest achievement: flawless memorization of the entire song. The sickly sweet, sticky, gluey, charred, rough feeling of an overcooked marshmallow when Jess, known for spilling seven different things in one meal, knocked your roasting stick into the fire. The inside jokes that I'd never be able to share, because who in the civilized world would get them? Every morning, Scout's Honour that we would do our best to "help all people at all times." Flashlight tag, B.S. (tactfully dubbed "Butternut Squash" ), boating, scrambling down goat paths and up hills…

I was leaving a home and a family, keeping only brightly coloured scraps of memories from the quilted expanse of forever. Right then, I didn't reflect on the past, but simply enjoyed the now. All that I wanted was one last night with my new family, out under the stars, living in the moment, and enjoying the piece of perfection I had been blessed with experiencing.
… And come September…we'll all remember… our camping days and friendships too.
We all rushed to get the beds outside, making a racket, dropping mattresses, knocking over tent poles, and slowly an amoeba of sorts began to grow next to the fire pit. A clump of beds, soon to be filled with giggling girls, all revelling in this last night of freedom, this last night of wildness, completely out of boundaries, rejoicing in this last night of friendship, of camp that just a week ago seemed like it could last until the end of time. We talked well into the night, watching the stars move, and the sky again lighten, changing as all things must.
Changed, that's me. Now I will always be this way, not only bonded to my friends, but also carrying with me precious lessons that not everyone has the chance to learn. Lessons taught not by schools or books, but by the sun and the rain, the trees and the stars, lessons in responsibility, trust, hope and love. Goodnight Girl Scouts; goodnight, friends. Please, don't forget me when morning comes. I promise I'll never forget that crazy life we lived together, on the loose.
… And as the years go by… I'll think of you and sigh… this is goodnight and not goodbye.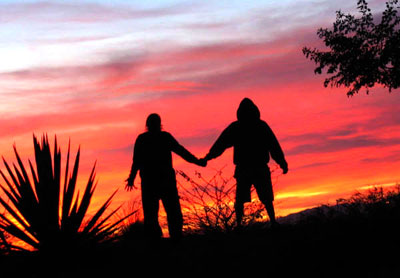 © Rosanna S., Phoenix, AZ