Loving Fully with Half a Heart
MAG
June 24, 2013
They knew before I was born that I was different. My heart was not developing properly. I had a rare defect, one often found in children with Down syndrome. The doctors performed an amniocentesis. I kicked. The needle scraped against my right thigh. I still have the scar – a fine white line. When the results came back, my parents were relieved. I did not have Down syndrome; however I was born with "half a heart," a rare defect known as tricuspid atresia.
In order to survive, I had to have three heart operations. When I was just three days old I had the first. At two I had the second, which was open-heart surgery, creating a scar right down the middle of my chest. They needed to fix a problem that nature could not. Between operations I was at home. My parents were cautious with me, but my five-year-old sister didn't understand. Jackie was punished if she played rough with me. She was angry, and rightly so because I got all the attention.
I was three when I had my third and final surgery, another open-heart procedure. My parents and sister visited every day. I would sometimes cover my face with my hands while Jackie was there. I did not want to see her because I was jealous of her. She got to leave with Mom and Dad – and go home. She had more time with them than I did. She was able to walk, play, and go places, whereas I had to stay in bed. Tubes encircled my bed, connecting me to monitors that beeped. Doctors who drew blood and ran tests greeted me every morning. I felt that others controlled my life.
In my eyes, my sister was free while I was trapped. But I recovered from the surgeries and was finally well enough to go home. My life became "normal."
As I got older, I realized my sister is like my dad. She has a straightforward, black-and-white personality. Snap decisions are what she is best at and revealing her emotions is a challenge. She is the complete opposite of me. All sisters have their differences, but for 16 years our relationship was distant. Surprisingly, a gift brought us together.
I cried the Christmas of 2010 when my sister gave me a homemade photo album. "Finding photos of both of us together was difficult," she said. She had been so anxious to show it to me that she hadn't even bothered to wrap it. Under the photos were quotes she found on the Internet and notes from her. Jackie does not often express her feelings, so for her to make this book showed me that she wanted to close the gap between us.
After that Christmas our relationship changed. We had both been scared as young children. Now, with the fear gone, we realize why we were so distant. I got so much attention that Jackie had felt unloved. The photo album conveyed her emotions better than words could. She was opening up, letting me in.
It will always be in our nature as sisters to bicker and annoy each other, but we are closer now than we have ever been. Our conversations are more personal. I am excited to grow with my sister and tackle our fears together, knowing I have her support and guidance.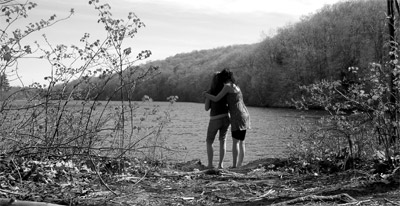 © Paige B., Woonsocket, RI