Silly Rules
May 20, 2013
I'm so sick of being told what to do. And God if I'm not the spitting cliche, the creme de la creme of bitter teenagers, the one and only angsty 18-year-old in the world. But it's too true these days.

There are so many rules that aren't worth following. There are so many instructions that become so useful when ignored; and the best part is that no one even notices as I silently break them, one by one. I leave school twenty minutes early and sit in my car to wait for my brother as everyone else dies for a little longer inside. I walk right out the doors and no one cares at all; they see me, too! They watch me walk out but figure I wouldn't dare do anything even related to rebellious.

"Answer these questions in your notes" translates to "these won't be turned in" so I draw swirly clouds in all my notebooks. They're filled now with things much more interesting than AP psychology notes would ever be.

"I have to go to the bathroom" means "I have to go wander the halls and look out windows for a while."

I like to wear boy shirts because they're never too tight and all girl clothes are all the same.

I bull answers about 70% of the time. Even when I know they're wrong it feels right, I feel pleased for realizing that so much of it is bull, like I've won somehow. I know I haven't won anything, that just because I know it's bull doesn't make it less painful to sit in a desk all day and lie. Lie that I know, or that I care, or that I believe it is good for me to be here. Sometimes I just doodle "fucking bullshit" all swirly a bunch of times so the teachers peering over my shoulders can almost make it out.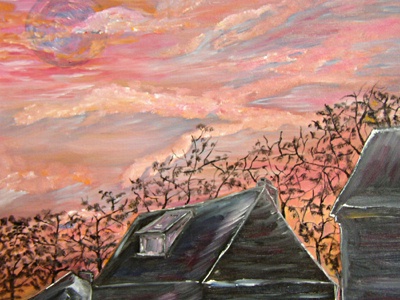 © Lauren M., Scotch Plains, NJ