4.5.12
April 11, 2013
Cold. terrible cold. RIpping and tearing at my heart. Fogging my vision. Clouding my mind. I stared blankly at the words on the pages as I flipped through the book in my hands. I looked up, the tears beginning to fill my eyes. I remembered the traumatizing events that took place that morning. I glanced at my brother, TJ's, tear streaked face, then at the TV screen where he was playing his video game. I let the tears descend down my cheek, and I attempted to re-read the previous paragraph that I had not taken in before. Realizing it was hopeless to read, I laid back and relived the events that had occurred that morning.

It was 5:30am. I woke up as I would have any other school day. I reluctantly slipped out of bed and shifted my feet towards the door. Eventually I released the door, and I lifted one foot in front of the other as I made my way to the bathroom. I heard quiet voices coming from downstairs, and then I saw the glow of the light come up from the stairwell.

Tiptoeing down the stairs, I peered around the corner and smelled something awful. I looked around, and there were several piles of my dog's poop everywhere. I glanced into my brothers room and saw my dog, Captain, lying on the ground, my Dad kneeling at his side.I saw his fur shining in the light, and I thought he was in trouble for doing his business on the floor, so I quickly ran up the stairs and dashed into the bathroom. I waited a minute, but didn't hear my Dad's voice shrieking at Captain, so I went down the stair again, and entered my brothers room.

I heard Captain's faint moan when he heard my footsteps approach, and I kneeled beside his head. I placed my hand on his chest, and felt his faint breathing. The night before, his skin was cold, and he was weak, and we just thought that it was a small sickness, and that it would blow over.

My eyes lifted and met my Dad's. He looked down again, then got to his feet, and retreated from the room. I heard water running from the bathroom, and my Dad came back out with a carpet cleaner. He placed it on some of the awful brown goop, and it started cleaning.

"Dad," I broke the silence with the simple, yet effective question. "Is Captain going to be ok?"

He looked deep into my eyes and said, "He's going to be fine, Jaz. I'll take him to the vet on the way to work." This gave me the reassurance I needed, and I continued stroking Captain's fur. Dad vanished into the bathroom once again, and TJ ran down the stairs with a pizza box in hand, ripping off the top and attempting to scoop up some of the poo. I

The vacuum ended its cycle, and began to beep. Dad lifted up the vacuum and carried it back into the bathroom, refilling it, then placing it on a nearby stain. I had turned my head to see them clean, stroking Captain absentmindedly. TJ entered the room quickly, patted Captain's head, and then left.

Staring blankly at Captain's brown and bronze fur, I realized something was wrong. A rush of cold blew over me, and my heart felt as if it had stopped. like all the oxygen had been sucked from the air. Under my hand, I didn't feel Captain's semi-warm skin. I didn't feel his chest going up and down. I glanced at his eyes. They were blank. I waved my hand in front of them, hoping he would blink. he didn't. I was numb. The sudden realization of what had just happened -what I had just witnessed- sunk in slower than the event had occurred. I wouldn't, couldn't, believe it. Just stay calm, I thought to myself. You're just dreaming.

I continued to stroke Captain's fur. He felt different. Stiff and cold. Footsteps banged behind me as my Dad entered the room and knelt by Captain once more. He must have felt the cold, too. He must have felt the stiffness in the air.

"Captain?" he blurted out urgently. "Buddy?"

TJ ran into the room and knelt by Captain, too. I'm still dreaming. Tears flooded TJ's and Dad's eyes. I'm still dreaming. My eyes began to water. I'm still dreaming. Tears splashed onto the carpet. I was awake.

I lifted my knees into my chest and curled up into a ball. My Dad's arms wrapped around me, and his tears stained my shirt, mine staining his. I felt the weight of my brother press against us, and we stayed like this for several minutes. We all released each other, and crowded around Captain's still form. Tears leaking down our faces.

Despite the horrible situation, the aching I still feel. Captain's death made me realize something important. Something I never payed attention to. How important family is, and in a crisis, they are always here for you. Even though a year has passed, and many more are to come, I still know how important my family is, and how the loss of a member made me realize that.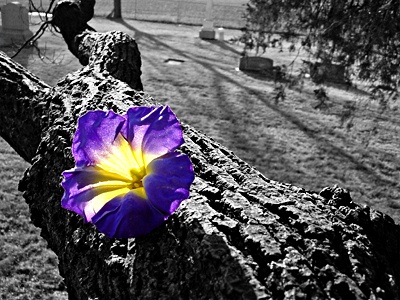 © Greg K., New Lenox, IL